Glimpse into the Future of Technology
Twice a week, we provide a unique perspective on the bleeding edge of technology with unparalleled insight on the research and development priorities of tech darlings.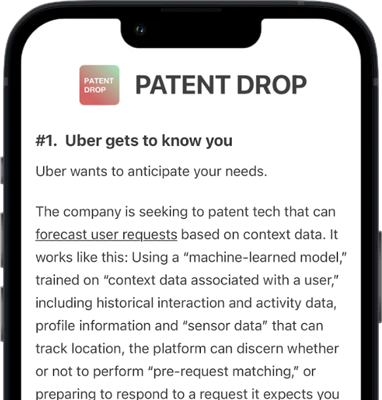 What You'll Get
01
Expert analysis of Big Tech companies' pipeline's through the lens of their patent applications
02
Access to the inner workings of cutting-edge innovation
03
A glimpse into the future
Reviews
"What's interesting about Patent Drop is that it gives you a round-up of all the new patents that have been registered in the U.S.. Gives you an insight into things to come."
Banda M.
"The only newsletter that I get every week and does not go straight to my bin. Very well written, it gives you an amazing insight of what is coming on the digital technology frontier, by looking at filed patents by tech giants."
Stefanos T.
"Said it before and I'll say it again, if you aren't subscribed to Patent Drop you are missing out."
Paul A.
Am I the last person to find Patent Drop? This is definitely what my life was missing."
Lisa
Sign Up now