Commercial Flower Power: How the Global Flower Trade Continues to Blossom
Perennial Winners Roses are red, violets are blue… and the flower industry makes a lot of green. Chances are, you just picked up a beautiful bouquet for a very special someone earlier this week (or, better yet, a very special someone just…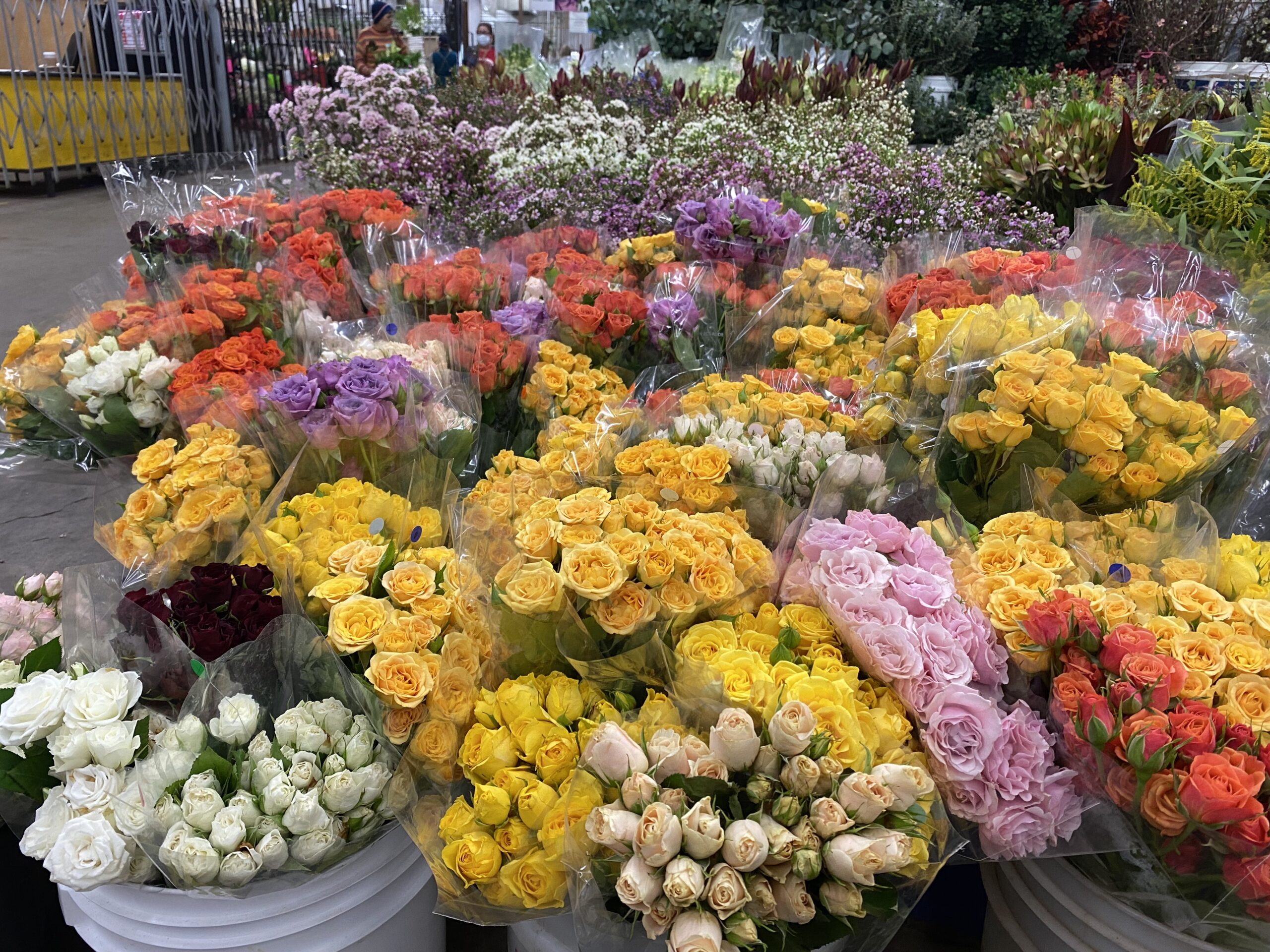 Sign up for insightful business news.
subscribe
Perennial Winners
Roses are red, violets are blue… and the flower industry makes a lot of green.
Chances are, you just picked up a beautiful bouquet for a very special someone earlier this week (or, better yet, a very special someone just picked up a bouquet for you). Along with heart-shaped chocolates and absurdly large teddy bears, Valentine's Day is primetime for sweethearts to buy each other a dozen roses.
The holiday is the floriculture industry's super bowl, a day in which a single local store can often peddle thousands of roses in just a 24-hour span.
But the flower industry is bigger than just one day, and flowers are more than just nice-looking, pleasant-smelling plants. They're the backbone of a global industry that by some estimates trades nearly $30 billion in annual volume — and, like a faithful patch of peonies, continues to steadily grow, year-in and year-out.
And that's what we're looking at today: the global flower trade, with its unique set of rules, blossoming new power dynamic, and need for speed to move its product around the world. 
So sit down, cover up your "black thumb" if need be, get one last whiff of the roses still clinging to life in a vase on your kitchen counter, and let's dive right in.
Planting Seeds
Flower trading and selling, in some capacity, has existed for many centuries. But most trace the flower trade as we know it today back to at least the seventeenth century, when the Netherlands began importing tulips from the Ottoman Empire, sparking the infamous Tulip Mania. That extraordinary bubble's place in history was cemented by the still-influential book Extraordinary Popular Delusions and the Madness of Crowds, written by Scottish journalist Charles Mackay over a century later.
By the 19th century, the Netherlands, primarily via the Royal FloraHolland auction house at Aalsmeer, near Amsterdam, grew to become the world's top powerhouse in the flower trade, a distinction it still retains.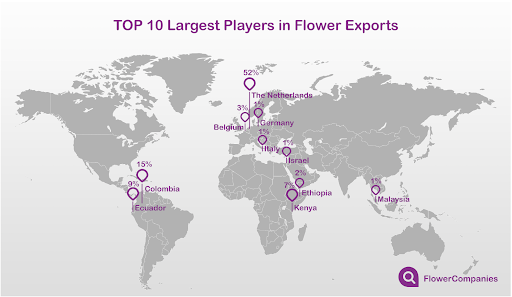 In fact, if you have cut flowers in your home right now, chances are pretty high that they flowed through that northwestern European marketplace at one point or another:
The Netherlands remains the world's top exporter of cut flowers, controlling a market share of roughly 50%, according to the Observatory of Economic Complexity. It's also the world's fourth-largest importer.
80% of all the tulips in the world hail from the Netherlands, with around 2 billion exported out of the nation each year; the Netherlands is also the top producer and exporter of peonies. And according to the International Trade Center (ITC) trade map, the nation exported an astounding 680,090 metric tons of cut flowers in 2021.
The infrastructure required to deliver all those fresh flowers on a daily basis to all the world's florists, supermarkets, and wholesalers is built on speed. Flowers, as we all know, wilt quickly and bruise easily — meaning that at the center of the multi-billion industry is precious cargo with rapidly diminishing value.
Petal to the Metal
Flower production has increased by a median annual rate of 7.5% over the past two decades, according to ProVerde market research. To match the wild production cycle, a supply chain has emerged to facilitate the very precise, fast-paced delivery of flowers from farm to storefronts:
Cut flowers, the type that live in vases once purchased, lose 15% of their value for every extra day spent in transport, and only have a vase life of roughly two weeks to begin with, Sylvie Mamias, secretary general of the international flower trade association Union Fleurs, recently told the BBC.
That means that transporting them requires so-called cold-chain logistics, which involves using various refrigerated storage systems on boats, planes, trucks, and other pieces of the supply chain to complete the rapid shipment of flowers from the farm to marketplaces in 48 hours or less.
It's a whirlwind process. Case in point: At the world's largest flower auction and flower market, the Aalsmeer market in the Netherlands, roughly 19 million flowers are sold each weekday, equivalent to roughly $7.2 million worth of business, according to the Guinness Book of World Records. Visit any major flower market in a metropolitan area, and you'll find a bustling, fast-paced, bazaar chock full of vendors, selling to individual retailers and haggling with wholesale buyers alike.
So Where do the Flowers Flow? The flower business is tied quite closely with commercial buyers, such as restaurants, hotels, office buildings, and other large public-facing spaces. 80% of all flowers are sold for commercial purposes to businesses, rather than homes or individuals, according to market research firm Astute Analytica.
The US is the world's biggest importer of flowers, receiving 21% of the world's supply. Overall, 80% of flowers sold in the United States were imported from foreign growers.
Germany, the Netherlands (fittingly), the United Kingdom, and Russia, round out the top five markets for importing flowers, according to TrendEconomy.
Earning Their Flowers
But where these flowers are coming from is increasingly shifting. At long last, The Dutch, who benefited from both a centuries-long first-mover advantage (also known as: imperialism) and fortuitously fertile soil, are slowly but surely losing their grip as the world's top flower producer.
Indeed, farmers much nearer the equator, specifically in Kenya, Ecuador, and Colombia, are quickly becoming flower-pedaling powerhouses. For that, they can thank simple science and a very 1970s phenomenon. Flowers naturally thrive in regions with high altitudes, warm days with maximum sunlight, and cool nights. And a few decades ago, rapid inflation of gas and oil prices made heating and powering greenhouses in cooler countries in the Northern hemisphere much more expensive, creating an opening for producers in the global south.
In the following decades, they've bloomed into some of the flower game's biggest competitors — with Kenya now delivering more roses to the European Union than any other nation, with a market share of 38%.
To keep up with the industry's rapid growth — from 10,946 tons in 1988 to 122,825 in 2015, according to its Horticultural Crop Directorate — the country has had to literally reshape its infrastructure.
At the Jomo Kenyatta International Airport in the capital city of Nairobi, world demand for flowers has become so high that it now has a terminal dedicated specifically to facilitating the flower trade — just more proof that the Netherlands may be losing a position its held since that wild time a tulip would set you back 10,000 guilders.
Get More Than News. Get Insights.
Our daily email brings you the most important and engaging stories in business. For free.