The State of Fast Food and Fast Casual, Explained
Sign up for insightful business news.
You know that feeling. Or perhaps you used to.
It's about 1 p.m. You're in the office, at your desk. Hungry.
You need something familiar, quick, and relatively inexpensive. A fat-happy burger-chain meal doesn't align with your diet – you'd rather eat something hearty and healthy-ish. Fast food, but without the guilt. In short, you need fast-casual.
Increasingly, Americans are turning to $15 salads and $13 burrito bowls over traditional fast-food combo meals and drive-thru staples. And so today, we'll be looking at both the relatively new wave of fast-casual hotspots like Chipotle, Sweetgreen, Potbelly, and Panera Bread, along with the deep-fried old guard – McDonald's, Wendy's, Burger King, and Taco Bell – and asking how they differ and to whom the future belongs.
Grab yourself some extra yuca fries and let's dip in.
I'll Have a Number One, Hold the Greasy French Fries
A chain of restaurants offering a standardized menu of cheap, quick meals is a proven recipe for success. Just ask Ray Kroc, the founding franchisee of McDonald's, who bought the company from its founders in 1961 and expanded it to encompass more territory than the British Empire once commanded. Flash forward 67 Shamrock Shake seasons, and the Golden Arches boast an eye-popping $183 billion market cap and a bevy of hungry imitators to boot. The proof is in the numbers: according to market data firm Statista, some 200,000 fast-food locations staffed by nearly 4 million employees feed customers daily across the US.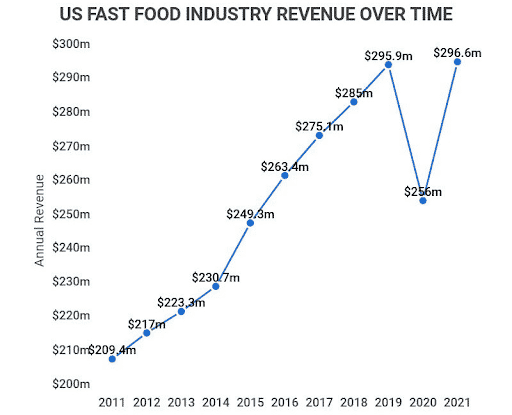 Most fast-food chains were founded half a century ago or more. Billions of customers served later, they've become safely entrenched incumbents. Yet the 90s saw the emergence of a trend that had taken full root by the 2010s and could now have the potential – if not to knock the king of the burger from the throne, then to tarnish the shine on those golden arches.
Whether finally sick of the constant low-grade heartburn or having taken Morgan Spurlock's Supersize Me to heart, consumers (of fast-food) were suddenly comfortable ponying up an extra couple of bucks for higher-quality ingredients. It didn't take long before local ventures such as Chipotle of Denver, Panera Bread of St. Louis, and Jersey Mike's Subs (guess where from) began to see serious success:
Chipotle grew from 16 Colorado-based locations in 1993 to over 500 by 2006 (during which time McDonald's invested and divested). It now operates in the neighborhood of 3,000 locations, amounting to revenues of $7.5 billion last year.
Panera went from 100 St. Louis-area locations in 1993 to over 2,000 today; Manhattan's Shake Shack first opened in 2001, went public in 2015, and now feeds its faithful at 250 locations worldwide.
With the proverbial meatball squarely in their court, fast-food chains soon reacted. McDonald's led the way in 2018, bidding farewell to preservatives, fake colors, and many artificial ingredients in its burgers while boasting of fresh growth on its salad menu.
Of course, fast-food titans were responding to shrinking bottom lines as much as they were to the trend toward svelter waistlines. A 2018 report by foodservice consultant Technomic, conducted for the National Restaurant Association, found expected fast-food revenue growth was just 4% for 2019, while fast-casual upstarts were in line for double that figure.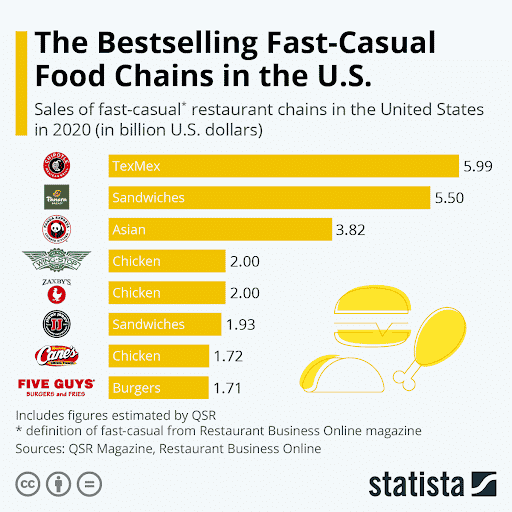 Avoiding Doomsday
But that was 2019. Then came 2020. Roughly 10% of all US restaurants closed permanently, according to a May 2021 report from foodservice research firm Datassential – the worst showing on record.
Unsurprisingly, due to a stronger capital base, quick-service restaurants with more than 500 locations (both fast-food and fast-casual) reported the lowest number of closures.
Embracing online ordering proved to be a key determinant of success. In August 2021, The Wall Street Journal reported that Cava, the fast-casual Mediterranean chain, saw its share of digital orders rise from 20% pre-pandemic to a 70% peak, before settling at a 45% middle ground. Per the same publication, digital orders accounted for the majority of Chipotle's sales in the first three months of 2021 – a first for the company.
"No matter the cuisine, fast-casual brands that embraced off-premises tactics such as online ordering, curbside pick-up, and third-party delivery prior to the pandemic were ahead of the game," Firehouse Subs CEO Don Fox wrote in an op-ed for QSR Magazine, a quick-service-restaurant trade publication.
And perhaps no fast-casual chain exemplifies this better than the king of the fast-casual salads: Sweetgreen.
Sweet Smell of Success
During the pandemic, Sweetgreen's no-fuss digital takeout helped it weather the storm. The company's app, which earlier had handled 50% of orders, was responsible for over 75% of them in 2020. Over the next year, the LA-based salad venture grew to become a staple work lunch, leading to its November IPO at a roughly $5.3 billion valuation, with the stock quickly spiking to 76% above the asking price after one day of trading.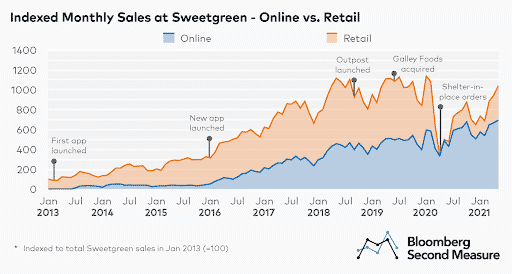 In early March, the salad specialist published its first-ever earnings report as a public company, beating estimates with $340 million in sales and announcing plans for 35 new locations (in addition to its current 140 or so) and expected revenue of over $500 million in the 2022 fiscal year. Sweetgreen's earnings-per-location ratio far outpaces those of Chipotle and McDonald's. Crucially, its beef-free menu dodges the worst of the inflation, its projected profit margin of 16% to 17% trumping a typical restaurant's 6 to 9%.
Imitation is the Best Form of Flattery: Yet even Sweetgreen – the complete antithesis of cheap, greasy fast-food chains – can't help but copy the successful business model of the old guard. One key way to drive new sales: drive-thrus.
And it's not the only fast-casual to embrace the classic takeout tactic:
In March, Sweetgreen announced the opening of its first drive-thru location in Schaumburg, Illinois by the end of the year. Customers will have the option of ordering ahead online before pulling through to pick up the good stuff. Fans of Chipotle will recognize this as a concept the Mexican grill chain popularized in 2019 with its Chipotlanes.
Chipotlanes proved so successful, the company fast-tracked its expansion, according to QSR Magazine. A hundred new drive-thrus came online in 2020, while 80% of the 215 new locations Chipotle opened in 2021 included the popular feature.
In February, Jimmy John's – acquired by Arby's parent company Inspire Brands in 2019 – opened its first drive-thru location incorporating online ordering. Shake Shack opened its first-ever drive-thru location in Maple Grove, Minnesota in December, with plans for 10 more nationwide by the end of this year.
The adoption of drive-thrus signals another crucial trend: expanding to the suburbs. Indeed, expensive salads and premium burgers are not just for fancy city folk anymore. Eighteen of Sweetgreen's 31 new locations last year opened in suburban areas – a strategy the company says it adopted in response to the rise of remote work and the decline of dense urban work centers.
Companies to Watch
It's a little late to get in on the ground floor at Chipotle, whose share price has risen 3,700% since its 2008 IPO. The burrito stock was down 16% in February but rallied after beating earnings estimates. CEO Brian Niccol credited price hikes for staving off inflation pains. Chipotle's share price has since stabilized, down less than 2% in 2022.
Panera Bread's life as a public company ended in 2017, after German conglomerate JAB, which also owns Peet's Coffee and Einstein Bros. Bagels, acquired the then-struggling company for $7.5 billion. After heavily investing in digital technology, JAB announced in November that Panera would go public via a merger with a SPAC led by Shake Shack founder Danny Meyer. From 1997 to 2017, Panera's share growth outpaced that of all other publicly listed restaurants, with its stock price appreciating nearly 10,000% (the S&P 500 rose just 200% over the same period, McDonald's increased about 1,350%, and Wendy's increased about 275%).
This brings us to Shake Shack. While the burger chain may lay little claim to being health-centric, it does have a loyal clientele willing to pay a premium for high-quality ingredients – which seems to be not only a general but also a strengthening trend. The company went public in 2015, posting $715 million in revenue for 2021, up over 40% from 2020 and twenty percent from pre-pandemic 2019. It plans to add 50 new locations this year. Shares have steadily climbed 50% since its IPO.
Takeaway: The death of McDonald's has been predicted more often than the return of the McRib, but there's a reason why it consistently fails to materialize: the real-estate ground game of old school chains is nearly impossible to recreate. Still, younger, sleeker chains are innovating and adapting their distribution footprint to match and meet a unique, highly desirable market cohort all their own.
A message from our Sponsor

Starbucks: "CAFFEINATED CRYPTO!!!"
Frappuccinos, pumpkin spice lattes, and now…. NFTs? Yes, apparently Starbucks is YOLOing headfirst into the Metaverse with JPEGs…
But as buzzy as NFTs are, they're still really, really small beans compared to the enormous $1.7 trillion real art asset class.
Unfortunately for you, you've probably never had the chance to invest in art — but there's been a revolution, and everyone wants in. Why?
Because we're not talking about investing in your friend's painting from college, but masterpieces from Basquiat, Banksy, and Warhol.
Numbers you need to know:
Contemporary art prices outpaced S&P returns by 164% (1995–2021)
Total wealth in art is projected to grow by $1 trillion (with a T) by 2026
85% of wealth managers want to include art in their offerings
Clearly, the numbers speak for themselves. That's why we're partnering with the premier art investing platform, meaning you can invest in real, one-of-a-kind masterpieces — without needing eight figures in the bank.
Why Wait? Put your money to work and get priority access with our Daily Upside Link.
Get More Than News. Get Insights.
Our daily email brings you the most important and engaging stories in business. For free.
Demand destruction is a fallacy. Demand hasn't evaporated, it has simply transformed.