Good Earnings for Salesforce Might Give Activist Investors a Chill Pill
That sound you hear is Marc Benioff exhaling. After yesterday's earnings report, which easily beat Wall Street's estimates, the Salesforce CEO is likely feeling a little less pressure from activist investors who have been circling him and the CRM company…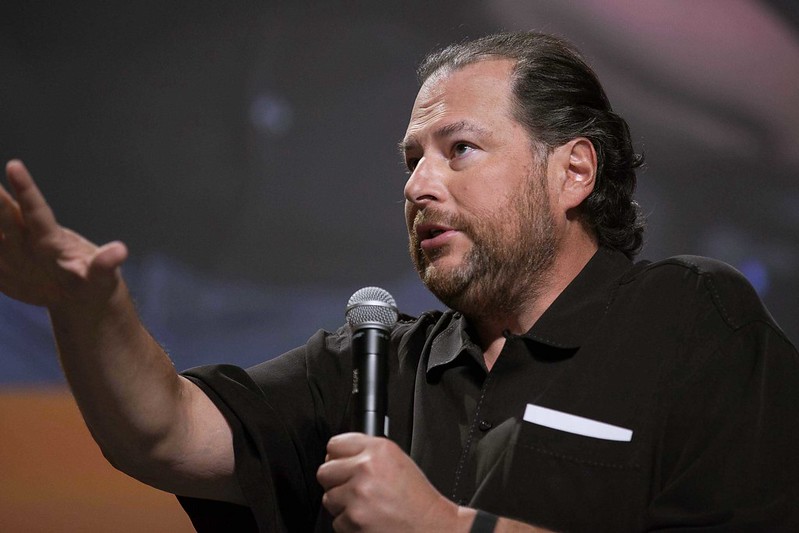 Sign up for insightful business news.
subscribe
That sound you hear is Marc Benioff exhaling.
After yesterday's earnings report, which easily beat Wall Street's estimates, the Salesforce CEO is likely feeling a little less pressure from activist investors who have been circling him and the CRM company like a shiver of great white sharks.
What Can I Say Except You're Welcome
"Ohana" means family, but Salesforce employees believe Benioff — who uses the Hawaiian word as a company mantra — has forgotten that. Like most tech firms during the pandemic, the Slack parent company went through an overhiring phase that quickly crumbled under its own weight. Last month, Benioff announced they were cutting 10% of the company's workforce, roughly 8,000 people. Plus, it's been scaling back on employee perks like in-house baristas and access to its 75-acre wellness retreat known as Trailblazer Ranch.
And in a shockingly not "Alright, Alright, Alright" revelation, The Wall Street Journal reported that Benioff's buddy and Failure to Launch star Matthew McConaughey was still on the company payroll at $10 million a year to star in commercials where he rhymes about workplace synergy and innovation. This is all on top of the fact that Salesforce's stock price has dropped nearly 50% since its November 2021 peak of $307 per share.
And now, shareholders are out for blood, trying to turn the outrigger canoe around:
Activist investors like Elliott Management, Starboard Value, Third Point, Inclusive Capital, and ValueAct are looking for Benioff to cut costs and boost profits. Elliott has even started nominating a new slate of board directors for Salesforce with one candidate likely being Jesse Cohn, an Elliott managing partner, CNBC reported.
Strive Asset Management, known for its "anti-wokeness" investing strategies and founded by presidential candidate Vivek Ramaswamy recently sent a letter to Benioff saying Salesforce should not be "using its corporate bullhorn to wade into the divisive social issues de jour," the WSJ reported.
Good Earnings: Salesforce's revenue was up 18% year-over-year, totaling $31.4 billion, and it's expected to grow to $34.5 billion next year. It closed the year with cash flow reaching $7.1 billion, which Benioff said was the highest in the company's history. So whatever discussion he needs to have with the likes of Elliott and Strive, it will probably go a lot smoother now that he comes bearing gifts — and a Hawaiian lei.
Clarification: Vivek Ramaswamy is no longer an executive at Strive Asset Management. He left the firm in late February. That was misstated in an earlier version of this story.
Get More Than News. Get Insights.
Our daily email brings you the most important and engaging stories in business. For free.