What's at Play in The Board Game Renaissance?
Sign up for insightful business news.
What's the one thing that can destroy a friendship or familial bond faster than anything else? A really good board game. And you'd better gear up and prepare for battle with your loved ones because board games are having a moment.
The board game industry definitely got a major boost from everyone spending their whole lives at home, looking for something else to do throughout 2020. But unlike most COVID-boomlets, the board game business has pieced together a genuine renaissance, with a market size approaching $19 billion, according to market research firm Arizton. It's also a uniquely fragmented market that has given upstart creators a chance to unseat the old powers, so even if the classics of your childhood might not be thriving, the shelves are full of new options that are drawing in a new generation of gamers.
So grab your dice, your figurines (but not the top hat, we want that one), and do not pass GO because today we're getting stuck in the whimsical world of board games.
The Geeks Shall Inherit The Market
Way back in the mists of time (otherwise known as any time before 2020) a man in the UK called Simon Budd wanted to get his hands on a board game called Champions of Midgard. It wasn't mainstream, nor was it especially rare, and given the golden age of e-retail was already well underway he didn't anticipate any difficulties finding it. But try as he might, Budd couldn't lay his hands on a copy, and that frustration gave him a lens to spot a niche in the market.
In 2018, Budd founded Zatu, an e-retailer focused on board games. You'd think competing with the likes of Amazon at that point in time would be like challenging ChatGPT to a game of Scrabble, but as Zatu's head of comms Arthur Blazey told The Daily Upside, there was a triple-word-score big retailers hadn't spotted.
"Amazon obviously does really well on the sort of core board games, but there's this whole other sector of these sort of dedicated gamers, which just weren't being serviced very well by Amazon or other retailers that were around at the time," Blazey said.
Zatu carved out a market for itself by stocking the types of games that board game nerds were avidly conversing about on forums. Other business owners capitalized on the passion of board game nerds by setting up dedicated board game cafés and bars, and those consumers formed a small but mighty core for the market. Now that base is expanding rapidly.
Then Along Came Covid: Lockdowns produced a predictable boom in board game purchases, and while sales are nowhere near the cabin-fever-induced highs of 2020, the industry is still in better shape now than it was pre-pandemic.
Market research company NPD Group found year-to-date sales of games in 2022 compared to 2019 were up 28%. Zatu saw site visits rocket from 8,000 visitors per day pre-2020 to 60,000. Now interest has evened out to around 15,000 visitors per day — still almost double the traffic it had pre-COVID.
One possible explanation for this modest but healthy rebound is that lockdowns forced people to encounter new, more engaging titles than beat-up family copies of Risk.
"When I was growing up, you'd have: Cluedo [Clue], Monopoly, you might have Ticket to Ride, and that would be your board game set," Blazey said. "Now it's very much: 'right, what can I add to my game collection?' It's looking for new experiences, I think that's what the pandemic exposed people to, because people want to try something else. You can't play Monopoly every day."
Now games that were once considered niche are coveted by big-name retailers.
"Barnes & Noble and Target now have the exact same kinds of games you would find in what used to be like a hobby niche kind of store," Rodney Smith, founder of board game YouTube channel Watch It Played, told The Washington Post in December.
Do Pass Go Do Collect $200 (Unless You're Hasbro)
Not every player in the board game market is having a good time. Hasbro, the toy giant behind such stalwart titles as Monopoly, Battleship, and Scrabble reported a 9% dip in its revenue for 2022. But a plethora of independent designers and publishers are advancing board game development.
"There are small companies that are doing gangbusters with product right now because they are smaller and more flexible," Chris Byrne, a toy expert and consultant told The Post.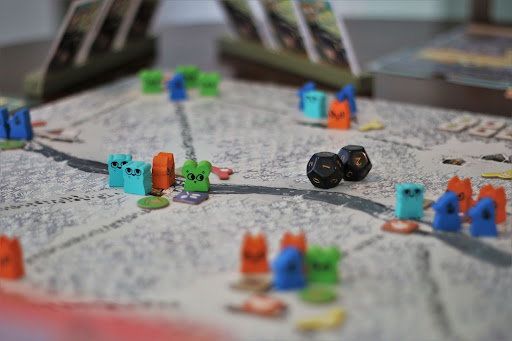 The new dizzying variety in board game titles and genres now available to consumers is at least in part attributable to two children of the internet:
Kickstarter: Games are the top category of products on crowdfunding site Kickstarter. The 2022 winner of the coveted Spiel des Jahres award was Cascadia, a gentle wildlife-themed tile-laying game that began life as a Kickstarter project.
YouTube: Popular channels like "Shut Up & Sit Down" and "Watch it Played," with subscriber bases of 396,000 and 315,000 respectively, have not only popularized board games as a hobby but have also short-circuited one of the most daunting barriers to entry for anyone considering picking up a new game: deciphering the rulebook.
"Who reads the rules anymore?" Blazey said, saying many game designers now place QR codes on their rulebooks that take players straight to an instructional YouTube video.
An Unexpected Ally
Blazey credits some of the innovations in board game design to another industry. "One of the things that looked like it would originally kill board games but has actually made them greatly improved is the […] popularity of video games," he said.
Blazey, who used to be more of a video gamer himself, pointed to one of today's biggest new board games, a giant campaign game called Gloomhaven which plays remarkably similar to a video game. In it, players create characters and a story as opposed to traditional board games with simpler play-styles.
"It feels to me that you're playing a video game but with a lot more admin," he said.
Blazey adds that in the current era of video gaming, multiplayer games are normally played online rather than so-called couch co-op mode. That means when friends play video games together they're generally playing in separate locations on their own devices, rather than sitting down on the couch together and playing. For gamers who feel the lack of that genuine social element, board games fill a void.
"During the pandemic when you could meet up you didn't want to be playing video games because that's probably what you were doing a lot of the time anyway with your headset. You want to be having that experience but in person, across a table," he said.
For the Uninitiated…
For any Daily Upside readers who didn't know about the new dawn breaking in board game land, Blazey's top "gateway game" is Ticket To Ride.
Set during the industrial revolution, in this game you build train lines across America and beyond if you want to splash out on expansions. "If all you know is Monopoly, you must do Ticket to Ride," he added.
For any readers curious to explore the new landscape of board games, he also recommends Azul, Splendor, Wingspan, and The Quacks of Quedlinburg. He points out the last title includes explosions as a game mechanic.
"Who doesn't like explosions?"
Get More Than News. Get Insights.
Our daily email brings you the most important and engaging stories in business. For free.