Amazon Launches Insurance Comparison Business in the UK
The insurance industry has a new big disruptor.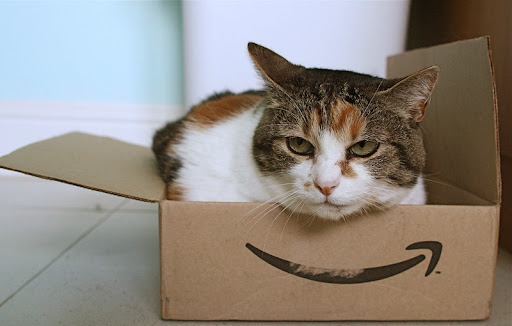 Sign up for insightful business news.
subscribe
Amazon Launches Insurance Comparison Business in the UK
If burglars do slip past your Amazon Ring security camera, the e-commerce giant may soon have you covered.
Amazon launched a new insurance-comparison service in the UK on Wednesday. It's moving into a fairly crowded market, running up against household names like Go Compare and Compare The Market, both of which are seared into Brit's brains thanks to advertising campaigns that make GEICO's motor-mouthing gecko seem sedate. But the new product could help Amazon generate even more cash.
Amazon Premium
Amazon, of course, wants to do everything. This time, that ethos is bringing it to the insurance comparison business, a niche but lucrative industry that's particularly popular in the UK. Unlike Americans, who tend to shop for insurance directly, Brits favor price-comparison platforms like GoCompare and Moneysupermarket which help users navigate their options while taking a cut of any final sale in the process. In that sense, Amazon's price comparison tool, dubbed the Amazon Insurance Store, is not too dissimilar to the advertising ground game it's long run on its flagship e-commerce service, where it offers favorable product placement to companies willing to pay up. Still, it has a ways to go to dominate the price comparison market, with only three insurers — Ageas, Co-op, and LV — signed on as participating partners at launch.
While this is Amazon's first foray into the insurance-comparison market, it has already dipped its toe into insurance with a handful of partnerships. It's also moving into a vacuum left behind by Google, which attempted to strike up its own insurance-comparison service but relegated the project to the Google Graveyard in 2016 after just one year. Amazon is starting off pretty small and simple:
The rollout will be slow with the price comparison service only available to a few UK Amazon account holders for now, and it will focus on home insurance. Amazon already has a strong foothold in the home security market, as it bought doorbell surveillance company Ring in 2018. Amazon is hoping simplicity will be the key to its success. Users will be able to select and pay for insurance all without leaving Amazon's website, according to the Financial Times. A Hargreaves analyst told the BBC this model has worked for Amazon in retail, but the looming cost-of-living crisis might make consumers more willing to put up with painful selection processes to find a good deal.
Careful with the data: The data you give to insurance companies is highly sensitive, and Amazon has faced questions from lawmakers in the past about how diligently it divides up and protects the swathes of data it processes. It's promised to keep the insurance data separate from its other businesses. As a reminder: former CEO Jeff Bezos told Congress in 2020 he couldn't guarantee third-party seller data had been shared in ways that broke the company's policy.
Get More Than News. Get Insights.
Our daily email brings you the most important and engaging stories in business. For free.