Under the Million Dollar Hood: A Look at the World of Luxury Vehicles
Sign up for insightful business news.
On May 5, 2022, there was a secret gathering of gearheads at the Mercedes-Benz Museum in Stuttgart, Germany. Only those who received a private invite earned the chance to bid on the rare item of the day: the 1955 300 SLR Uhlenhaut Coupé – sleek, powerful, and above all else, impossibly cool. To call it the type of vehicle James Bond would drive would be unfair to the car.
With only two in existence, Sotheby's auction house started the bidding at €50 million. It quickly went up – €70 million, €85 million, €100 million. On behalf of an unnamed client, British car collector Simon Kidston purchased the Coupé for €135 million, making it the world's most valuable car ever sold and shattering the previous record held by a 1962 Ferrari 250 GTO that sold for $48 million in 2018.
The 8-cylinder feat of German engineering capable of reaching speeds of 180 mph is at its most basic level a fun toy. But beyond the simple joy of going vroom vroom, the 300 SLR is an investment, an acquisition, an appreciating asset.
Vintage cars have risen 185% in value over the past decade, outpacing other luxury items such as fine art, watches, and wine. In fact, antique autos sit second only to high-quality whiskeys, according to the latest Knight Frank wealth report.
And in a world where the electric vehicle is expected to replace the combustion engine in the next few decades, the value and interest in classic cars is entering uncharted territory.
What's the Difference?
We might be using the term "classic" throughout this piece as a catchall term, but let's break down some car collector vocab first.
The words "vintage," "antique," and "classic" may sound interchangeable, but these are very particular definitions within the industry. It mainly comes down to when the car was made, but even then it varies between countries and states:
Sticking with the US standards, "vintage" means any vehicle built specifically between 1919 and 1930 – think Jay Gatsby's big yellow Rolls-Royce or Al Capone's bulletproof Cadillac with the suicide doors.
"Classic" and "antique" generally refer to cars that are at least 20 and 45 years old, respectively. Obviously, models like the 1959 Cadillac Coupe DeVille are among the most eye-catching and desired vehicles. But, technically speaking, this 2000 Honda Odyssey – a soccer mom's dream – can be considered a classic car.
Some motor vehicle departments require owners to obtain a separate registration for classic cars. This is mainly done to officially identify collectible vehicles, kind of like a notary's stamp. There are certain benefits to this like reduced or waived registration fees, old school license plates, and exemption from regular inspections. But there are some caveats as well. For example, in Tennessee, you can only drive classic cars on weekends or during special car-related events like a parade.
But limited time with your mechanical baby is far from the only cost associated with classic car investments.
Triples Makes it Safe. Triples is Best.
If you're a very particular sommelier, you might spend $5,000 to keep your rare wines in a refrigerator specifically designed to care for vintage vinos, but in reality, all you need is a cool, dark place to keep your favorite bottles tasting great.
Cars, on the other hand, require a lot more TLC… and a lot more money:
In an interview with Reuters, collector Florain Zimmerman – who has a reserve of 300 vehicles – said one year of storage, insurance, and maintenance can amount to 6% of his portfolio's value. "It's getting harder and harder to find the proper mechanics to keep these cars alive," he said. "You have to spend quite an amount of money to keep all these cars in running condition."
Each year, collector and YouTuber Harry Metcalfe goes through every car and motorcycle in his garage and details how much it cost to care for them in the past 12 months. Some don't require much work, maybe just a tune-up and insurance costs, which end up amounting to only a few hundred dollars. But a restoration of Lancia Fulvia alone set him back roughly $110,000 in 2022. The average driver could buy three modern cars for that.
So while many classic cars are on the road to appreciating in value, there are potholes of sunk costs along the way.
Investment of Passion
Classic cars are an investment, but they can't be hedged or shorted like a stock. Conversely, classic cars are unique in that they're not really affected by changes in the overall economy.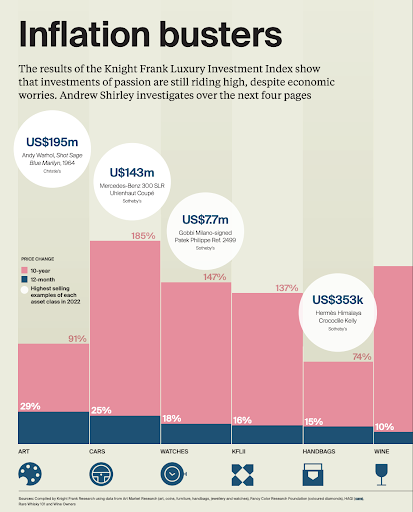 "Broadly, the classic car market has neither a positive nor an inverse correlation with other sectors," Knight Frank's Andrew Shirley wrote in the wealth report. "In other words, the classic car sector generally marches to the beat of its own drum."
And these days, that drum is beating faster and faster:
According to Classic.com, a site that tracks vehicle indexes, the 1992 GMC Typhoon was valued at an average price of roughly $20,600 in January 2022, and at the start of this year, it jumped nearly 70% to $35,000.
The Knight Frank report included a survey of 500-plus private bankers, wealth advisors, and family offices representing a combined wealth of more than $2.5 trillion. When asked which investment of passion their clients are likely to purchase in 2023, 34% answered cars.
Going from Gas to Electric
In the next few decades, the automobile as we have known it will cease to exist. Nations around the world are beginning to shift away from fossil fuels as they pump trillions of dollars into reusable energies and more Earth-friendly technologies.
That change is creating particular and obvious upheaval in the automotive industry, where pretty much every major car company has plans to sell only electric vehicles in 15 years. The 27 countries that make up the European Union even agreed to ban the sale of gas-powered cars by 2035.
Emission regulations generally don't apply to classic cars, however, because they're not driven frequently enough to cause substantial pollution. That said, there is a growing cultural disdain for the internal combustion engine so it's still up for debate what this global transition will mean to the classic car market:
Collectors have begun converting their classic vehicles from gas engines to electric, believing it will increase the car's practicality and desirableness in an EV-dominated world. A study from auto trader group Vanarama found that after conversion, some classic cars increased more than 2000% in value like an MG MGB Roadster that went from £5,000 to £108,000
Some car gurus remain skeptical. On a recent episode of the podcast Collecting Cars, automotive journalist Chris Cooper said conversions are a disgrace. "It's like saying, 'I'm going to literally take the heart out of my pet dog and put some animatronics in it, so it lasts longer.'"
We'll still have to wait and see exactly how the Green Revolution will affect classic cars, but right now the sector is red hot. In 2022, online classic dealer Bring a Trailer hauled in more than $1.35 billion in sales, a 63% jump from 2021.
And let's hypothesize that the Green Revolution never fully materializes, and Earth finds itself in a Mad Max-style apocalypse. You'd better believe that it will be the classic car collectors who reign supreme.
Get More Than News. Get Insights.
Our daily email brings you the most important and engaging stories in business. For free.