Trump Slapped with Federal Criminal Charges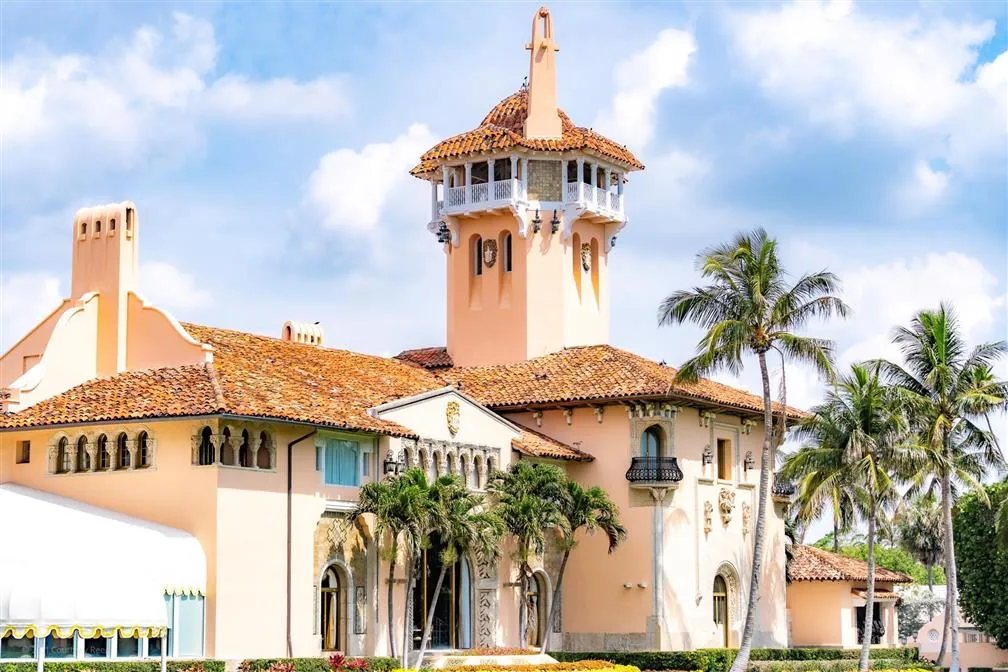 Where money, power and politics collide.
Even before the U.S. Justice Department raided Mar-a-Lago, the opulent country club home of Donald Trump, the former president repeatedly came under fire for how he blithely mixed business with pleasure at his Palm Beach residence.
Who could forget the Twitter post by one Mar-a-Lago club member in 2017, posing with the military aide who carried the "football" containing the nation's nuclear codes?
And how, at the same time, Trump was hosting a dinner at his club for the Japanese Prime Minister, while North Korea launched missiles in the direction of Japan? "Wow…center of the action!" the delighted clubgoer wrote.
Such heightened access did not sit well with many. But the threat to America's national security came into sharpest focus after Trump left office, bringing with him a massive trove of documents and boxes, some of which were deposited at his home in Mar-a-Lago.
Not long after he vacated the White House in 2021, the U.S. National Archives realized it was missing key parts of the presidential record and specific paper trails from the Trump administration.
In an email sent to Trump requesting those lost records, the National Archives wrote there were "certain paper/textual records that we cannot account for," politely asking for Trump's "immediate assistance" in ensuring the archive "receives all presidential records as required by the Presidential Records Act." (Interestingly, one of the missing records was the letter President Obama left Trump on his first day of office.)
That National Archives email chasing up records was sent just over two years ago. It is astounding to think of how the situation has now snowballed. In August, the Justice Department raided Mar-a-Lago, uncovering more than 100 classified documents still held by Trump, as well as 20 boxes containing 11 sets of classified documents.
Last night, news hit that a federal grand jury in Miami had indicted Trump on seven counts, as the Justice Department moves ahead with its months-long classified documents inquiry. Crucially, the federal criminal charges accuse Trump of willfully retaining documents containing the nation's defense secrets in violation of the Espionage Act, according to reports, as well as making false statements and conspiracy to obstruct.
The charges comprise, according to reports, seven different counts of obstruction, as opposed to multiple counts of the same offense.
This marks the first time a former president has been slapped with federal criminal charges, throwing the 2024 presidential election into question, as Trump remains the GOP front runner. That said, there is nothing keeping him from continuing to run for office, as indictments do not preclude candidacy.
Trump confirmed the news on his social media platform, emphatically maintaining his innocence. He disclosed the arraignment will take place at the federal courthouse in Miami next Tuesday at 3 p.m. In a video he posted, he called the charges "election interference" seeking to derail his bid for the White House, adding, "I am an innocent man, I did nothing wrong."
This is not Trump's first criminal indictment. Power Corridor has covered the former president's other legal woes extensively here, here and here.
In April, Trump also plead not guilty to a criminal indictment in New York accusing him of 34 counts of falsifying business records and conspiracy in the first degree. A number of other civil and criminal investigations into the former president continue, spanning both before and after his presidency.
The latest indictment follows revelations of an audio recording from 2021 where Trump reportedly discussed a classified document in the context of attacking Iran, stating, "As president, I could have declassified it, but now I can't," according to a source familiar with the transcript. The recording is seen as a potentially key piece of evidence in the classified documents case against the former president.
The full slate of federal charges against Trump have yet to be unsealed, but they have been confirmed by Trump's lawyers and by Trump himself. On Friday, two of Trump's lawyers representing him in the Justice Department's inquiry into his handling of classified documents, Jim Trusty and John Rowley, quit the case, but didn't say much about why, simply calling it a "logical moment" to step away.
Notably, Trump's legal battles have done little to change how the electorate views him – most of those who already supported him still do, and vice versa.
If nothing else, Trump's scandals have laid bare how deeply entrenched Americans are in their political views amid a landscape that is, to put it mildly, intractable.
Where Money, Power, and Politics Collide
Tracking power balances from Wall Street to Washington and beyond. Written by Leah McGrath Goodman.