Ticket Price Madness Encore: After the Taylor Swift fiasco, will Live Nation-Ticketmaster behave?
Sign up for insightful business news.
In 1970, The Grateful Dead, Janis Joplin, The Band, and more gathered at the CNE Grandstand Stadium in Toronto to perform the first show in what was later billed as The Festival Express. Although these were the days of flower power and free love, the musicians were met with anger and violence. Roughly 2,500 protestors crashed the gates, climbed the fences, and fought with police.
What sparked their rage? Tickets were $14. If those had been Taylor Swift fans in 2022, Toronto would lie in ruin.
They may no longer incite wild mobs, but sky-high concert prices have provoked a furious backlash, and the bulk of that wrath is directed toward Live Nation – one of the world's largest venue operators and event promoters – and its ticket sales and resale arm, Ticketmaster.
For years, fans, artists, venues, and competitors have complained that Live Nation-Ticketmaster has too tight a grip on the concert industry, stifling competition, and creating outrageously expensive ticket prices. The gripes turned to fury when a 2022 presale for Taylor Swift's latest tour literally broke the internet and Congress called for hearings.
But what did it all mean? It's been two months since Washington latest ceremonial grilling of a commercial giant, and who's to say there won't be another Taylor Swift-like debacle in a year but with Justin Bieber or Drake? What needs to be done to level the playing field for other ticket sellers and keep fans from having to spend entire paychecks (or more) on a two-hour show.
So make sure you're a Verified Fan, raise your lighters if you must, and please sit down so the person in front of you can see as we dive into Live Nation-Ticketmaster and its stranglehold on the concert industry.
The State of Concerts
First, let's zoom out a little.
For two years, the pandemic kept concert-goers from being able to see their favorite artists in-person. Many musicians, especially the smaller ones who needed to pay the bills, transitioned to live broadcasts from their living rooms on YouTube or Instagram. But music via video chat inherently lacks that sense of grandiose togetherness concerts create, not to mention what buffering does to sound quality.
By the time infection rates cooled and businesses opened back up, music fans were desperate for live shows, and they were willing to pay more for them:
Live Nation reported its highest concert attendances ever in 2022 with 121 million fans at 43,600 events. That's up 24% from 2019. Of course, that translates to increased revenue, which shot up to $16.7 billion, a 44% increase from three years prior.
During a recent earnings call, Live Nation President Joe Berchtold said people are also purchasing more expensive VIP packages, underscoring the growing strength of premiumization in an already expensive industry.
For instance, for the upcoming Beyonce shows at Metlife Stadium in New Jersey, fans can buy the Pure/Honey package, which gives them front row viewing, access to a cash bar, a nearby bathroom, and a photo opp – just don't expect the Queen Bee to pose in the photo with you. And it all starts at $3,750.
That brings us to the 5'11, blonde cat lover who couldn't shake off her own anger at the ticket price disaster.
Trouble, Trouble
From her country roots to her pop hits and now her melancholy ballads, Taylor Swift has become one of the most successful musicians in history.
So it was a dark day in February 2021 when Swift announced she was canceling her Lover Fest world tour and not rescheduling the dates because of the pandemic. But since then, she has released three more albums, ratcheting up the hype fans felt when she officially announced her comeback Eras tour this past November.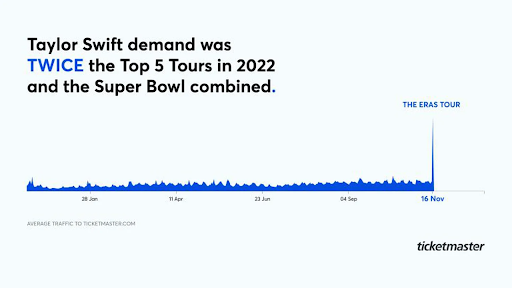 However, if this were a YouTube explainer video, this is where we would play Edvard Grieg's In the Hall of the Mountain King to signify disarray devolving into bedlam:
To avoid bots and scalpers scooping up tickets and reselling them at insane markups, Ticketmaster made customers register for the pre-sale, and if you were approved as a Verified Fan, then you'd have a chance to purchase seats. It's like entering a lottery where the prize is getting into another lottery.
On Nov. 15, millions of fans signed into Ticketmaster and were immediately met with site crashes, long wait times, and tickets that appeared available but turned out to have already been snagged.
The demand was so high and bugs so pervasive that Ticketmaster canceled its general sale. Many were forced to purchase tickets on resale sites like StubHub and Vivid Seats, but at that point they had as much as tripled in price.
Do Not Pass Go
The whole snafu called attention to what everyone already assumed: Live Nation-Ticketmaster is a monopoly.
Numerous federal legislators have said as much, citing the company's nearly 70% of US market share. Live Nation-Ticketmaster doesn't just promote concerts. It owns some of the largest venues where acts want to play, sells the tickets, and handles the ticket resales.
In 2009, when Live Nation and Ticketmaster announced plans to merge, antitrust watchdogs and government officials were rightly concerned it could create unfair dominance in the live entertainment industry. But the Department of Justice allowed the merger under a 10-year consent decree that the two companies would not push out smaller competition or retaliate against venues that didn't use Ticketmaster.
In essence, the government said, "You can merge but promise you won't do anything bad." It's beginning to look like Live Nation had its fingers crossed fingers behind its back when it agreed:
In 2019, the DoJ investigated Live Nation on allegations that it had harassed venues into using Ticketmaster and retaliated against those that didn't. But instead of a hefty fine or any major shift in business structure, the government office just extended the consent decree another five years.
President of the American Antitrust Institute Dr. Diana Moss said large firms often come up with plenty of economic arguments on why vertical integration is healthy and pro-competition, but in reality it's quite the opposite. She called the extension of the consent decree a "colossal failure."
"Vertical integration as we know creates really strong incentives for firms to exclude smaller rivals," she told The Daily Upside. "Why? Because the merged firm has control over the entire supply chain. The problems are supercharged when it's firms that are dominant in their markets."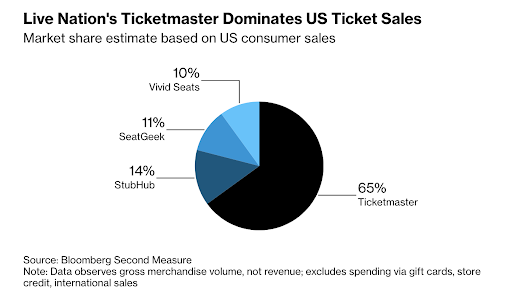 Artists often say they're at the mercy of Ticketmaster because it controls so much. In the case of Swift, tickets were not available anywhere else. There wasn't even the option to buy them on her website. In a statement to CNBC, Swift's promoter AEG Presents claimed they were just as much of a victim as the fans.
"Ticketmaster's exclusive deal with the vast majority of venues on the 'Eras' tour required us to ticket through their system…We didn't have a choice," a rep said.
On Capitol Hill
Shortly after the Swift fiasco, Congress put Live Nation in the hot seat, with a Senate Judiciary Committee holding hearings in January.
Now, keep in mind, it wasn't a court case or anything like that. It was basically just a chance for legislators to grill Ticketmaster and display how "with it" they are by dramatically spouting off Taylor Swift lyrics – like when Connecticut Democrat Richard Blumenthal said, "Ticketmaster ought to look in the mirror and say, 'I'm the problem. It's me.'"
Moss, who's organization testified at the hearings, said she was pleasantly surprised how uniform Congress' stance was on the issue. "Just politically, you had both Democrats and Republicans agreeing that Live Nation-Ticketmaster is a competitive problem," she said. "That is so unusual to see that kind of bi-partisan alignment on an issue. That was earth moving."
Despite that apparent consensus, it's unclear what if anything will come out of these hearings, and Moss isn't overly confident there will be any substantial change.
"We've been advocating for the government to bring a Section 2 monopoly case against Live Nation-Ticketmaster for some time now. It would be a very bold, aggressive step toward dealing with yet another monopoly in the US economy, but until it happens, we just won't know."
Monopoly cases are also incredibly difficult to litigate, and the real solution to unfettered consolidation is preventing mergers in the first place, she said.
"Merger control is the first line of defense against market power," Moss cautioned. "If you can stop harmful mergers before they happen, that's the best enforcement tool."
You might be wondering what happened with the angry mob at the Festival Express? Jerry Garcia eventually calmed the rowdy crowd by hosting a free show at a nearby park while the actual event proceeded as planned. Something tells us Live Nation-Ticketmaster would sooner jump off Franklin's Tower than throw a free concert.
Get More Than News. Get Insights.
Our daily email brings you the most important and engaging stories in business. For free.