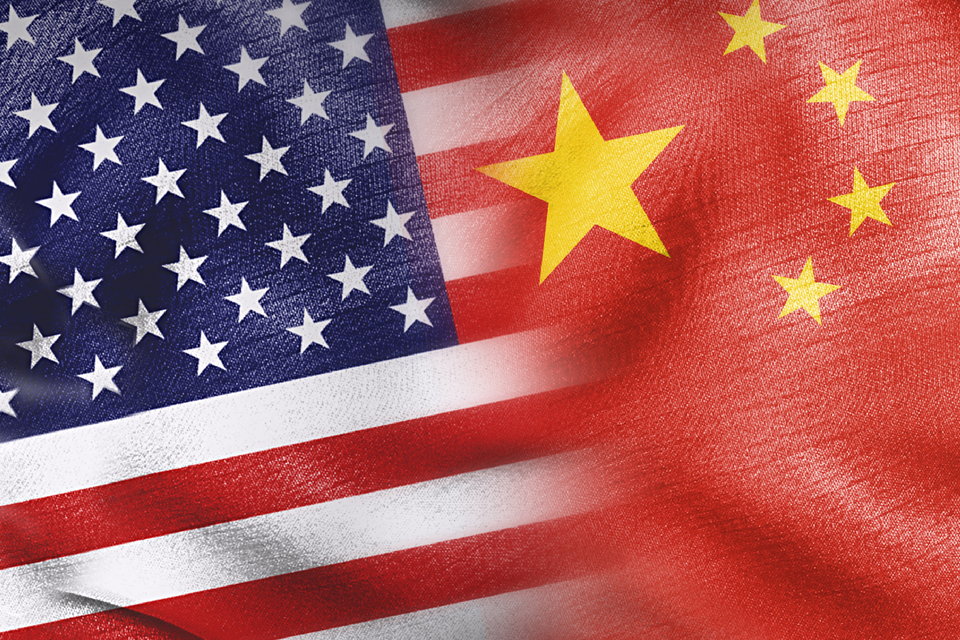 Where money, power and politics collide.
In case you hadn't noticed, relations between the U.S. and China have been abysmal. But if the pandemic has taught us anything, it is that both countries are well aware neither can afford to lose the other as a trading partner, treat the other as an adversary – or risk the crippling cost of an altercation.
Even if one of them appears to have sent a spy balloon over the U.S. just in time for Valentine's Day – which was swiftly shot down.
So, amid a lot of diplomatic feints, America is undertaking the delicate process of "de-risking" – after discarding the "decoupling" language that turned off some of its European allies – by imposing investment and technology restrictions on China while, simultaneously, making nice noises and talking reassuringly about keeping that trade conveyor belt humming.
The shift in recent months, however, has been dramatic, with the latest trade data showing China's exports to the U.S. plummeting by 23.7 percent in June to $42.7 billion, marking a six-month low, according to the U.S. Census Bureau, which tracks foreign trade balances. Demand for goods from China has weakened globally, as central banks boosted interest rates to cool inflation, putting its economy on the defensive as it struggles to regain traction, post-Covid.
The pullback in goods from China flowing to the U.S. (American goods to China also are down, by 4.1 percent, in the latest data), reflects a move by American corporations to rely less on Chinese suppliers, even as the Biden administration attempts to maintain trade ties and iron out tensions.
Among those pivoting away from China are retailers like Walmart and Target, as well as companies such as HP, Lego and Stanley Black & Decker.
And while many missed it, Mexico burst out of the gate during the first four months of this year to score $263 billion in trade with the U.S., making it America's biggest trading partner. Other countries chipping away at China's dominance include Vietnam and Thailand, although China still reigns supreme for its top-notch manufacturing and infrastructure.
Prior to Mexico's rise as a manufacturing behemoth, China eclipsed Canada to clinch the top spot as America's trading partner in 2014. But with U.S. tariffs imposed on Chinese goods in 2018 and the pandemic supply disruptions of 2020 to the present day, those dynamics have rapidly changed for China, along with international trade and investment flows.
In another sign of the magnitude of the shift, President Biden is expected to issue an executive order that's been in the works for some time to restrict American investments in China as soon as next week.
The executive order likely will compel U.S. companies to notify the government of new investments in sensitive Chinese technologies and technology firms and prohibit certain deals in critical sectors like artificial intelligence (AI), semiconductors and quantum computing.
A detailed report from Bloomberg released late Tuesday, citing people familiar with the matter, revealed that Biden's plan to screen U.S. investment in China likely will focus on Chinese companies receiving at least half of their revenue from AI and quantum computing.
The scope of the executive order would focus primarily on prohibiting investments in Chinese cutting-edge technology, such as AI, for military end-users, according to Bloomberg. For instance, the rule would let U.S. investors bet on major Chinese conglomerates that have artificial-intelligence units, but receive most of their revenue from other sources. It also would require the U.S. government to be notified of investments in other AI technology.
The proposal is expected to ban investments in certain quantum computing applications, according to Bloomberg, including high-level encryption and sensing technologies and advanced semiconductors. The executive order would not take effect immediately and is expected to take a year or so for rule-making and industry comment. The order will not be retroactive, so investments in China during the comment period won't apply.
Much is at stake. China is one of the world's largest military and economic powers, second only to the U.S., so neither country can reasonably consider imperiling the other without doing damage to themselves – which includes risk of recession or economic tailspins.
While anti-China sentiment has been at fever pitch this year among U.S. lawmakers due to the "spy balloon" incident, Biden's team has reportedly been torn over how to rein in China's technological and military rise.
The White House isn't commenting on the details of the executive order or exactly when it will drop, but it appears its purpose is to protect America's national security and keep U.S. investment and expertise from further emboldening China and speeding up its development of key technologies that would allow it to accelerate the modernization of its military.
In April, Treasury's undersecretary for international affairs, Jay Shambaugh, said that while the U.S. may "take targeted national security actions" toward Chinese firms, the policies are not being undertaken "to benefit the U.S. economically vis-a-vis China." Shambaugh has said that America "must maintain as large a lead as possible" in high-tech sectors versus China, underscoring national security concerns.
Although America's de-risking tactics have been repeatedly downplayed by the Biden administration, China remains chagrined by the president's new export rules last year, which sought to curb the Chinese microchip sector in favor of cementing America's hold on emerging and high-tech industries.
Whether this strategy of conscious uncoupling will succeed remains to be seen, but Biden is giving it his very best shot, engaging in what The Economist this month called "high-level summitry" to rebuild relations with China — within limits. As national security adviser Jake Sullivan put it, the U.S. aims to protect its "foundational technologies with a small yard and a high fence."
U.S. Treasury Secretary Janet Yellen, along with a procession of Biden's top aides, have visited Beijing throughout the summer, hoping to ameliorate rising tensions over investment, sanctions and export controls. The executive order in the works, she said in July, will be "narrowly targeted" and would not have a "fundamental impact" on overall investment in China. "I think there is a way to resolve, to establish, a working relationship with China that benefits them and us," Biden said, as Yellen wrapped her meetings.
Propounding the risk of America's stance toward China, Shambaugh told the U.S. Senate Foreign Relations Committee in late July that an economic decoupling, aside from being virtually impossible to do, would be "disastrous" for both the U.S. and China.
He urged, instead, for using "a suite of tools to achieve our economic security goals," emphasizing that protecting America from national security risks, while also "clearly communicating our position and intent to China to reduce the risk of understanding" is the goal.
None of that changes how perilous these crossroads are. Has any nation ever successfully embraced one of its greatest – and most threatening – economic and military competitors as an ally?
Where Money, Power, and Politics Collide
Tracking power balances from Wall Street to Washington and beyond. Written by Leah McGrath Goodman.
Demand destruction is a fallacy. Demand hasn't evaporated, it has simply transformed.