Walmart Forecasts Your Scroll
Tracking Big Tech through the lens of patent filings.
Walmart wants to know what's going to make you click "buy" when you're online window shopping.
The retailer is seeking to patent three methods for predicting the churn, acquisition and conversion of a user. These tools work the same way that any AI prediction model does: They collect historical user data, such as transactions or engagement, and feed that to a machine learning model. That model then hands out a score detailing the likelihood that certain events will happen.
All three of these patents predict user interactions with an online membership program. The customer churn prediction patent predicts how likely the user is to not renew their membership to a customer loyalty program.
Meanwhile, the acquisition prediction patent forecasts the probability that a user will sign up for a program; and the conversion prediction method tells the likelihood that a customer will switch from a free trial to a paid membership.
Rather than treating every online customer the same, the tech in these patents seeks to help Walmart hyper-personalize its approach to making customers stick around. If a user is deemed unlikely to sign up for a membership or convert to a paid version of it, however, these systems indicate to the retailer that it shouldn't bother with additional ads or reminders to avoid customer dissatisfaction.
Walmart noted in its acquisition prediction patent.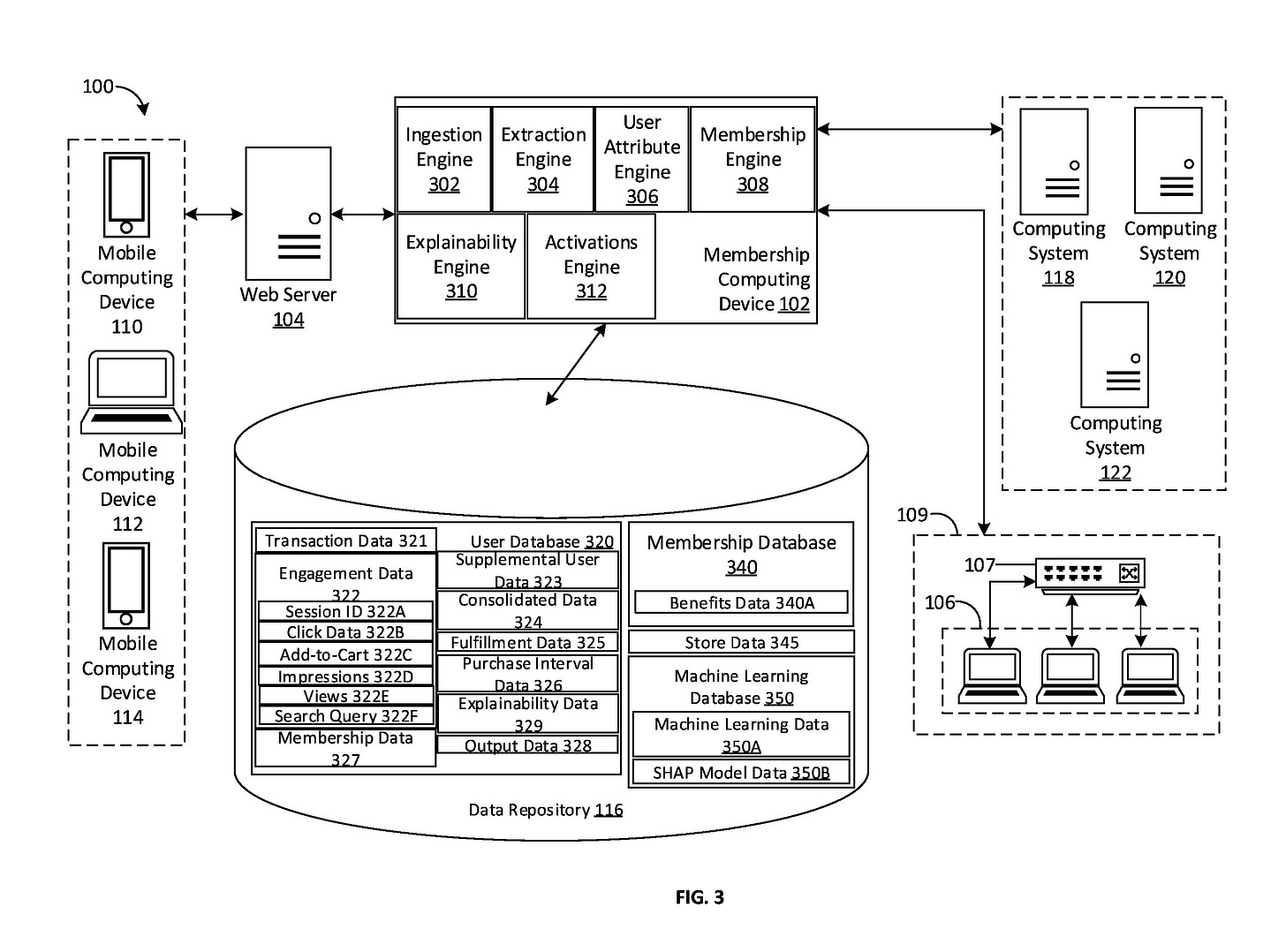 These patents are the latest example of how AI is allowing companies to cater their ads, recommendations and user experiences to hyper-personalized specifications. We've seen this concept crop up in several patent filings over the last few months: Visa wants to use AI to tempt you into using your credit card, Uber wants machine learning to predict your ridership needs, and eBay is working on a model to place highly-customized banner ads, just to name a few.
As for Walmart, this isn't the first time we've seen the retailer get techy as it seeks to prove it's more than its brick-and-mortar legacy. The company filed a bunch of tech-related patent applications in recent months, including an automated warehouse storage system, autonomous delivery vehicles (including trucks and drones), and a way to determine online shopper "attribute affinities" to help it give personalized recommendations.
These patents could help it boost its ecommerce presence, specifically by helping it gain traction for Walmart+, its $98-a-year subscription service that the company introduced in September 2020. The service reportedly has around 11 million subscribers, offers gas discounts and free delivery, and started its "Walmart+ Week" on July 10 and ends July 13 (The day before and after Amazon Prime Day).
Though a company representative claimed at launch that Walmart+ isn't intended to compete with any other service, Amazon remains a major rival. With Amazon's more than 300 million active monthly customer accounts, Walmart's tech push has likely been driven by a goal to narrow the gap between Amazon's e-commerce capabilities and its own, especially as consumer trends lean toward online shopping, one analyst previously told Patent Drop.
Finding ways to effectively target the consumers that are actually going to buy into a Walmart subscription – and not wasting energy on those who won't – could be key to the retailer gaining some ground in the fight for ecommerce relevance.
Have any comments, tips or suggestions? Drop us a line! Email at admin@patentdrop.xyz or shoot us a DM on Twitter @patentdrop. If you want to get Patent Drop in your inbox, click here to subscribe.
Insights on the latest Big Tech patents.
Stay up to date with the development in Big Tech through the lens of patent filings. Join 50,000+ readers, for free.
Demand destruction is a fallacy. Demand hasn't evaporated, it has simply transformed.