Apple Breaks the Sound Barrier
Tracking Big Tech through the lens of patent filings.
In the wake of Apple debuting its long-awaited headset at WWDC last week, the company may be looking to give developers more control over extended reality soundscapes.
Apple is seeking to patent an API for developers of "simulated reality" applications that can "determine a total calibration gain" of sound in-headset experiences. Fundamentally, this allows developers to apply Apple's concepts of 3D and spatial audio to their own simulated reality experiences.
This system lets developers control the sound of a specific virtual object, and adjusts based on the end-user's distance from that virtual object. The developer controls what Apple calls the "total calibration gain," or essentially a combination of factors that determine the volume an end-user hears, and adjusts this "to reflect the expected real world sound level desired by the author of the app."
Though this sounds a bit technical, think of it like this: If you're wearing a headset, and a virtual object falls from a virtual ledge and shatters 20 feet away, this system makes it sound that way. Or, if the developer wants a virtual bee to sound like it's flying quickly by your ear, this system will simulate that sound, no matter what volume the end-user has set.
While this tech could apply to apps developed for Apple's new headset, which includes it's Spatial Audio system, the company noted in its filing that this system allows developers to accommodate the playback experiences of different types of simulated reality devices, allowing the playback to stay "faithful to the desires of the author," no matter the hardware.
"Different hardware devices … have different playback sensitivity," Apple noted in its patent. "As such, the same digital audio asset will be experienced with different playback loudness across different hardware devices."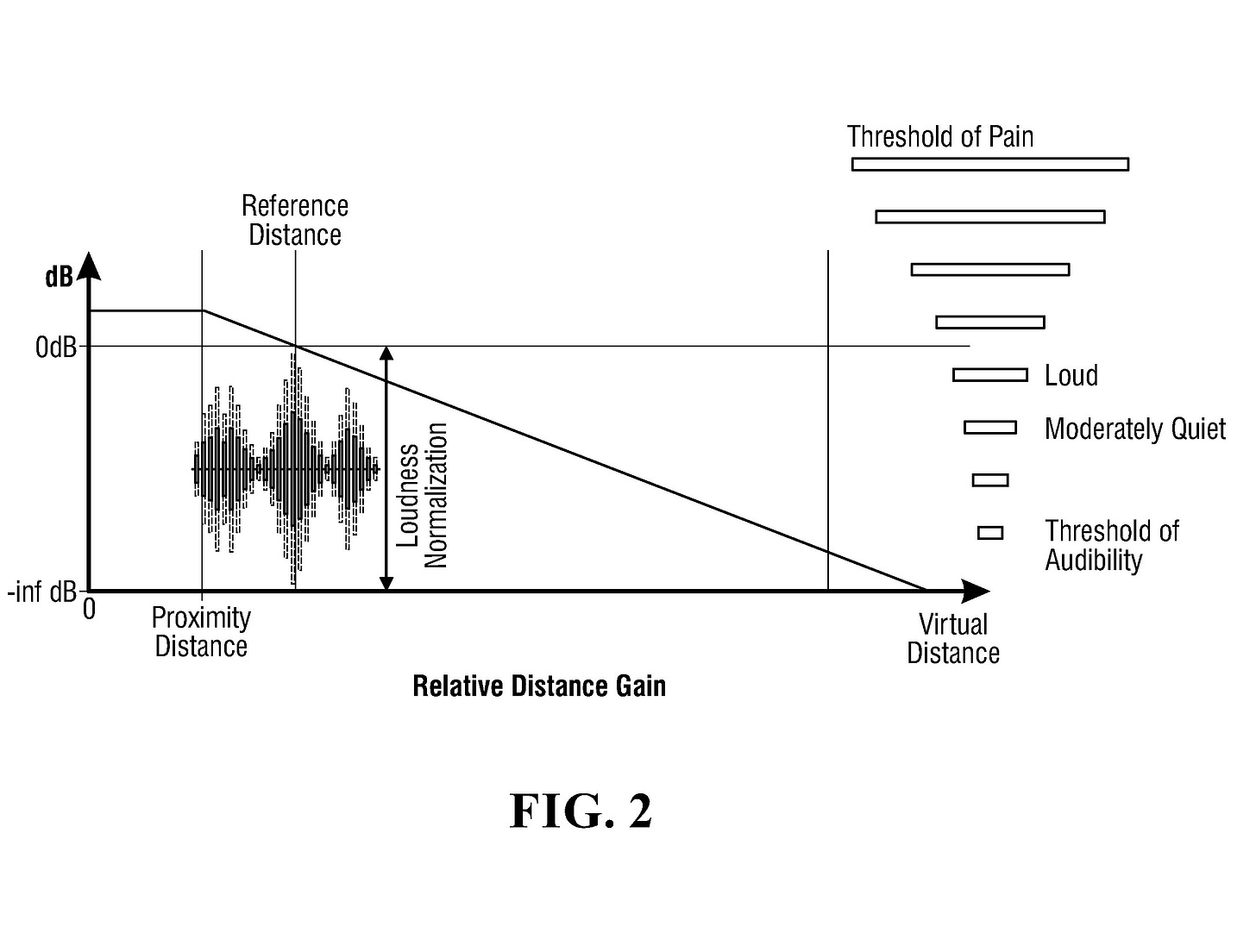 No matter how good visuals are, good sound design is crucial in making any extended reality experience engaging, said Jake Maymar, VP of Innovation at The Glimpse Group. "75% of a presentation is sound," he said. "If you watch a really great movie without sound, it just feels empty. But if you have okay visuals and amazing sound, it's fantastic."
Apple has long understood the importance of good sound design, said Maymar, and that priority is evident in the way the company is marketing its new Vision Pro headset. Rather than trying to sell the device with a focus on gaming as many other VR and AR companies have, Apple is marketing the headset as an immersive "home theater replacement," said Maymar, with spatial audio as a core feature. Apple getting a patent on the system used for this sound design could be its plan to preemptively ward off copycats before it's released to consumers.
"The best sound you can experience is with this headset," said Maymar. "It makes sound exist in space where it would actually, physically exist in the space. That's why I think they're patenting the sound design, because it's essentially their secret sauce."
While Apple is quite new to the so-called simulated reality market, Vision Pro is an impressive first offering, said Maymar. The company has solved the common distortions issues caused by "passthrough" in AR, or seeing through the visuals of the headset, he noted, that plague other VR and AR companies.
"You're going to have a seamless experience, even though mathematically (the headset) is doing all these crazy calculations, it makes it look like you're just looking through it," said Maymar. "That's the beauty of Apple, they make these deceptively easy to use experiences."
The Vision Pro isn't cheap – with the first version running at $3499 – but a less expensive, second generation version of the product could reportedly hit the shelves as soon as the end of 2025, Bloomberg's Mark Gurman reported. Since the Vision Pro is likely first in a long line of AR devices for Apple, it's a good idea that the API in this patent filing is designed to help developers give the same sound experience to every listener, in any device. 
Have any comments, tips or suggestions? Drop us a line! Email at admin@patentdrop.xyz or shoot us a DM on Twitter @patentdrop. If you want to get Patent Drop in your inbox, click here to subscribe.
Insights on the latest Big Tech patents.
Stay up to date with the development in Big Tech through the lens of patent filings. Join 50,000+ readers, for free.
Demand destruction is a fallacy. Demand hasn't evaporated, it has simply transformed.