JPMorgan's Customer Service Vibe Check
Tracking Big Tech through the lens of patent filings.
AI has weaved its way into customer service far beyond just your average chatbot. Companies are now using it to determine just how long it can leave you on hold.
JPMorgan Chase wants to patent a system that determines "dissatisfaction data" in real-time during customer service interactions using machine learning. First, this system generates a real-time stream of transcript data during a phone call or an online chat between a customer and an agent. Next, a machine learning model that's been trained on "predefined complaint data" takes this transcript and compares it to its training data.
The model then comes up with a "similarity score," from this comparison to determine how likely it is that the customer is dissatisfied from whether or not this score is above or below a certain "threshold value." For example, if there is only an 80% match between the live call data and the complaint training data, the caller may be marked as dissatisfied, JPMorgan noted.
Depending on the score, a customer service agent may be automatically given suggestions to resolve the issue, such as information on company policies and a "de-escalation script," which pop up on their work computer. JPMorgan said that this helps alleviate the burden of angry customers from agents while improving accuracy in amending customer complaints.
JPMorgan said that conventional customer service call systems lack the capability to automatically identify when a caller is complaining about something in real-time, noting that "conventional tools may only provide manual identification of complaints resulting in unnecessary escalations as well as resulting in inferior quality and consistency issues."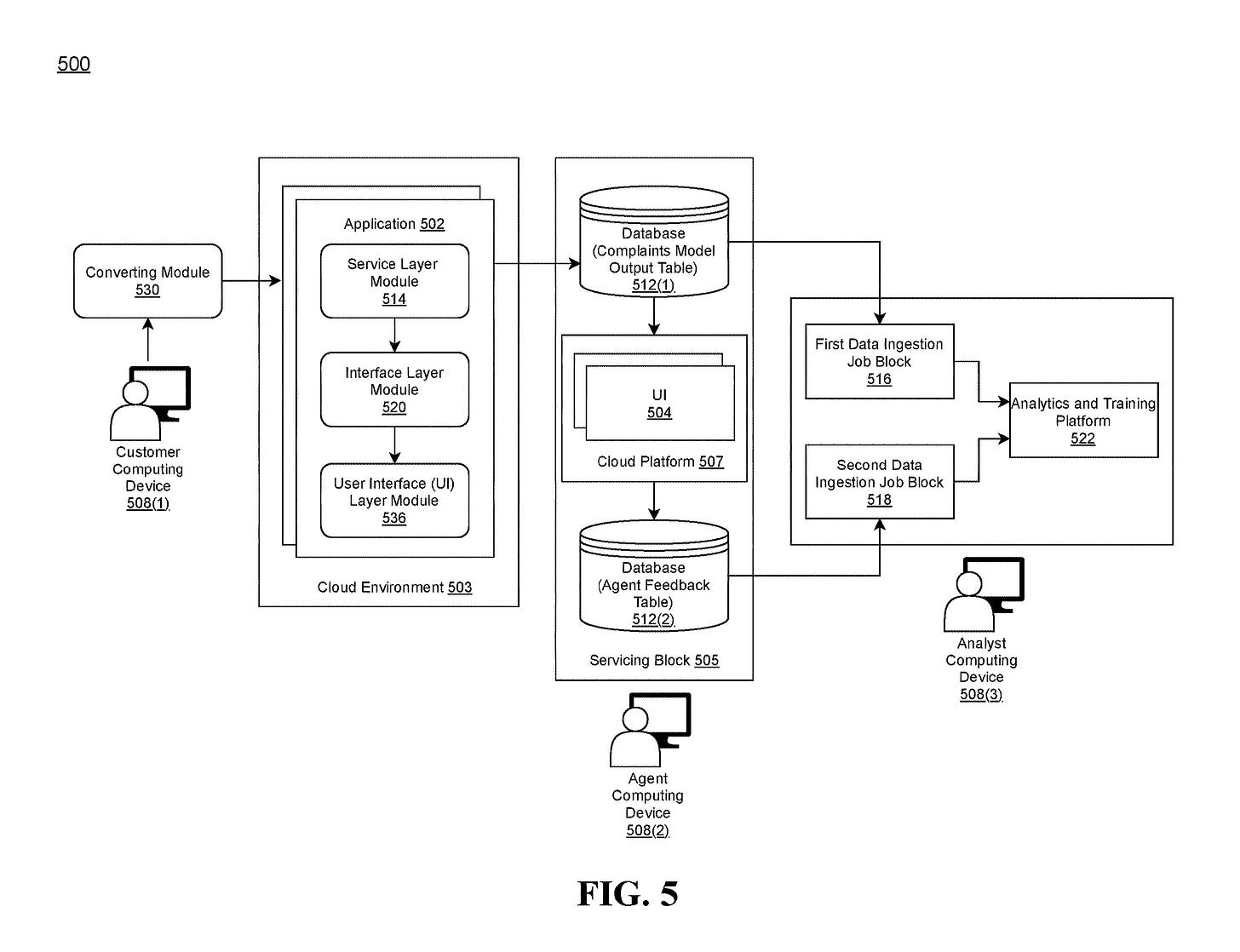 JPMorgan has built up quite the track record in recent months for tech developments, particularly in AI: The company has sought patents for low- and no-code machine learning tech, an AI-based talent recruiting tool and a matchmaking algorithm for companies and investors. The financial institution also sought to trademark a ChatGPT-esque AI investment advisor called IndexGPT in May. More may be in store, too: CEO Jamie Dimon said in his annual letter to shareholders that the company has "more than 300 AI use cases in production" spanning topics like risk, customer experience and fraud.
While this tech could certainly be used to help handle its own customer service calls, the financial institution could just be adding to its massive and ever-growing arsenal of tech products to offer to the companies it works with.
Currently, a lot of AI-based customer experience innovations available typically use their prediction capabilities for things like product recommendations, advertising and sales. This patent shows that the concept of AI-based prediction, rather than human reaction, is being implemented in customer service scenarios as well, said Eradj Khaidarov, CTO at enterprise customer experience platform IrisCX.
"The ability to be predictive and preemptively trying to solve issues for customers, it's something that I'm sure a lot of people are trying to put their finger on," said Khaidarov.
AI chatbots have long been deployed in customer service scenarios, but often they're "not an effective medium of communication," as they are often only capable of "triaging your top level issues," leading an upset customer to request a human over a bot anyways, said Khaidarov. Rather than actually handling requests, these kinds of chatbots are used just to "alleviate the pressure of not having enough staff to support incoming calls," he noted.
While JPMorgan's tech is meant to partner with human agents, implementing tech for those agents to automatically deduce and take care of problems more quickly could likely go a long way in alleviating hours-long hold times.
Have any comments, tips or suggestions? Drop us a line! Email at admin@patentdrop.xyz or shoot us a DM on Twitter @patentdrop. If you want to get Patent Drop in your inbox, click here to subscribe.
Insights on the latest Big Tech patents.
Stay up to date with the development in Big Tech through the lens of patent filings. Join 50,000+ readers, for free.
Demand destruction is a fallacy. Demand hasn't evaporated, it has simply transformed.