Taking Swipes At Online Dating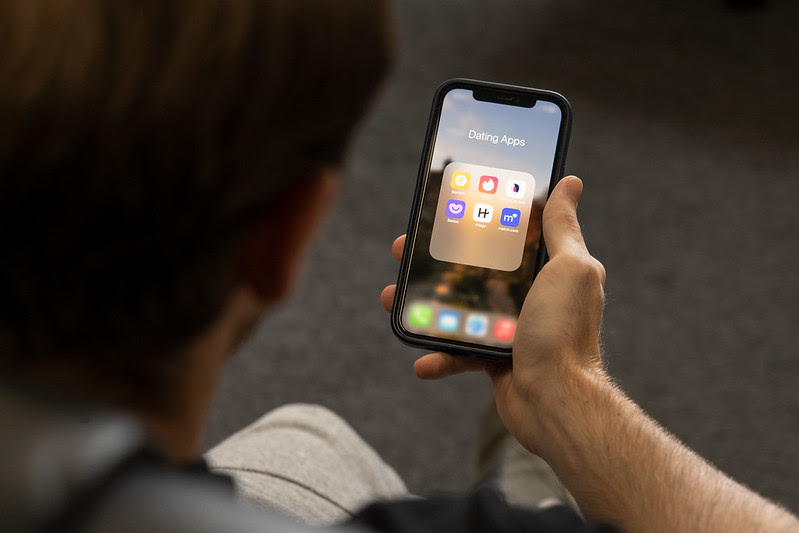 Sign up for insightful business news.
In early May, the US Center for Disease Control declared the end of the coronavirus public health emergency. But just a couple days earlier, the US surgeon general announced a public health emergency of a different kind: the "loneliness epidemic."
It's an affliction whose symptoms include not just a lack of platonic relationships, but romantic ones too.
US marriage rates hit a 50-year low in 2020. They say love, like the coronavirus, is contagious — and if love was in the air during the pandemic, it got sucked out and filtered by a newly-installed HVAC system.
But, as with many other societal phenomena, the pandemic merely accentuated years- and decades-long trends. For many millennials, marriage has become more of a "capstone" of adult life — one last final step, following years dedicated to themselves, their friends, their passions, and their careers — rather than a "cornerstone," in which partners serve as foundational bedrocks in the years following high school and secondary education. The average age of newlyweds in the US was 31 in 2022, according to wedding-services company The Knot's annual Real Weddings Study. That's way up from the average early 20s nuptials seen as late as the 1970s.
So Americans are lonelier than ever, with dating lives lasting longer than ever — sounds like exactly the type of problem that Silicon Valley so often seeks to solve. But does love hurt for the roughly $10 billion online dating industry?
Electric Love
Online dating, of course, is nothing new. Match.com launched all the way back in 1995 when AOL still ruled the web. By 2000, eHarmony joined the space, followed shortly by Plenty of Fish in 2003 and OkCupid in 2004 — the same years Myspace and Facebook launched, respectively.
In the early days of online dating, tech companies did what tech companies do best: deploy algorithms, data, and the instant-connectability to create a souped-up version of the "44-year-old bookish man who likes theater and long walks looking for a woman with similar interests" classified ads.
But it took years before the stigma of meeting someone online dissipated:
Between 2005 and 2015, the approval rating of online dating as a suitable place to meet prospective romantic partners increased from 44% to 59%, according to the Pew Research Center. Meanwhile, the share of survey respondents who thought users of online dating services were "desperate" lonely hearts fell from 29% to 23% in the same period.
Today, the stigma is all but gone from social circles. 30% of US adults say they have used a dating app, according to a Pew Research survey conducted last year. That includes 37% of 30 to 49 year olds and just over half of 18 to 29 year olds.
The second revolution came in 2012 via the launch of Tinder, which took online dating off of desktop computers and into phone pockets, replacing algorithmic matches with a game of left- and right-swipes based on gut reactions to a few photos, limited biographical details, and a sentence or two of personality.
Sometimes love comes at first sight, right?
All in the Family: For Match Group, the parent company behind the original Match.com, that old maxim has long proven to be true — especially when it comes to eyeing potential competitors and business disruptors.
The company, which operated as a subsidiary of IAC before being spun out in 2020, has long brought services into its home, including a $50 million acquisition of OkCupid in 2011, a $3 billion merger with Tinder in 2017 (Tinder was born in IAC's startup incubator), and an acquisition of Hinge in 2018. The group now dominates the US dating app industry. Tinder still holds roughly a 30% market share, according to Sensor Tower data, Hinge an 18% market share, Plenty of Fish 11%, and OkCupid and Match.com around 3% respectively. The only other major player, Bumble, which is a publicly-traded company almost solely based around the flagship app, holds about 26% of market share.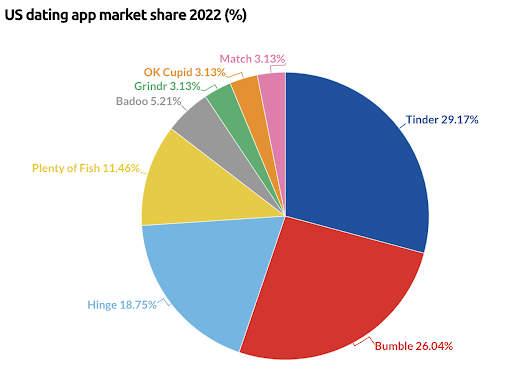 Match Group's goal? Build as big a user base of potential paying customers as possible. In its first-quarter earnings report this year, Match Group reported 15.8 million paying subscribers across its myriad services — down from 16 million a quarter earlier.
In other words, like streaming and meal-kit deliveries, dating apps are not immune to the dreaded whims of belt-tightening users. Churn, baby, churn.
Love Comes at a Cost
It should come as no surprise that any business built around the in-between months of users' romantic lives isn't exactly stable. Hinge markets itself as "the dating app designed to be deleted," which doubles as wry recognition that its Match Group big sibling Tinder is often less geared toward finding Mr/Mrs. Right and more toward finding Mr./Mrs. Right Now and a tacit admission that its not built to service customers —i.e., drain subscription dollars — for the long haul.
Still, Hinge, and its orientation toward creating long-term-relationships, is emblematic of the challenges facing the industry. Match Group's churn woes are nothing new, and certainly familiar to Bumble. That attrition has in part driven Match Group's share price down over 60% since its June 2020 stock market debut, while Bumble's has tumbled nearly 80% since its February 2021 debut.
The Shake-Up: Subscription models offering users extra swipes, swiping do-overs, and boosted profiles, among other perks, have long been the industry's monetization bread-and-butter. But that soon may change:
"[Dating apps have] been able to just use subscriptions as the main monetization lever," Nick Cauley, technology, media, and telecom sector analyst at Third Bridge group, told The Daily Upside. "But as more and more apps have been emerging … the prices of these subscriptions are being driven down by the level of competition."
Dating apps are increasingly turning toward smaller, in-app purchases that provide temporary perks and boost user profiles — a model that's been increasingly lucrative for Grindr, a dating app popular among gay men, Cauley told TDU.
"It's going to be in-app purchases, more features that can be bought," Cauley said, "And then, hopefully, the next couple of years more advertising opportunities," a revenue model dating apps have by-and-large strayed from.
Love is a Game: It's perhaps unsurprising then who Match Group swiped right on as a new CEO just over a year ago: Bernard King, former president of mobile games company Zynga, where he had plenty of experience mining money in the form of small in-app purchases and selling ad space inside popular games like FarmVille and Words With Friends.
Not Everyone's Loving It: Online dating, of course, is not for everyone — a fact that's perhaps more true than ever. In early summer of 2021, as vaccination campaigns swept the nation, Shar Dubey, then CEO of Match Group, proclaimed the coming months to be the "summer of love."
Dubey may have been right. But sparks weren't flying across Tinder.
"Post-pandemic, dating apps have definitely seen more challenges, maybe more churn from users — more of a decline in active users, as people are trying to get back out there and meet people face to face," Cauley told TDU. "There's definitely been a decline in usage of the apps. And anecdotally, we've heard from a lot of experts that people are just going in trying to meet people naturally and organically out in person."
The digitally-native Gen Zers have been especially curious about venturing outside the confines of the dating apps, either embracing in-person connections or relying on the apps they're already addicted to serve as the catalyst for dating. TikTok, in other words, has Tinder and Bumble shaking in their boots.
The Male Elephant in the Room
And then of course there's dating app's biggest problem: dating apps are not for everyone, especially women.
While Match Group doesn't disclose demographic data on its users, estimates from data firm App Ape show that roughly 76% of Tinder US users are male, according to reporting from the Financial Times.
That may be unsurprising — especially given that women report much higher rates of harassment, such as catfishing or receiving unsolicited illicit photographs.
And for Match Group and Bumble, which still largely cater to heterosexual users, it presents an obvious problem, especially when it comes to monetization. Men may be used to buying the first drink to earn a conversation with a woman at a bar. But dating apps turn that traditional chivalrous act to the extreme.
"These companies realize that women are just not paying as much as frequently as men," Cauley told TDU. "It's just easier… for women to operate on these platforms to find a match. It's less likely for them to pay for additional features."
Bumble, which differentiates itself by allowing conversations to start only if the female sends a first message within 24 hours of a mutual swipe-right, may even be forced to rethink that central philosophy, Cauley noted.
That's a big change. Then again, all is fair in love and the war for dating app market share.
Get More Than News. Get Insights.
Our daily email brings you the most important and engaging stories in business. For free.