Tracking Big Tech through the lens of patent filings.
Amazon wants to touch the clouds… or at least soar a few hundred feet above the ground.
The company is seeking a patent on a new kind of drone design and manufacturing that may make it possible for it to expand its delivery fleet. The system includes easily replaceable components and fewer parts, aiming to cut down on cost, weight and complexity while keeping the vehicle robust. 
For one, the frame of Amazon's drone is made of "bonded components," (a.k.a., pieces that aren't separable), such as "struts, bulkheads, a tail section, wing sections, brackets or joints, and/or motor mounts." This reduces the number of components included in the frame by having them be fused, and improves the stiffness and strength of the drone overall.
The design also incorporates "assembled components," which include the "fuselage, motors, propellers, motor pod fairings, stabilizer fins, and/or landing gear." These components are removable and replaceable, making maintenance easier and quicker while reducing the possibility of needing to chuck a drone entirely if one part breaks down.
Reducing the cost of the drone by creating replaceable pieces and making it less complex overall could allow manufacturers to push out these vehicles more quickly. Creating a stiffer drone, meanwhile, allows for it to remain lightweight while still carrying heavy payloads.
"Design, manufacturing, and assembly of aerial vehicles may be complex, difficult, and expensive," Amazon noted in its patent. "Accordingly, there is a need for aerial vehicle designs to lower weight, increase stiffness, reduce costs, and facilitate fabrication, assembly, and maintenance."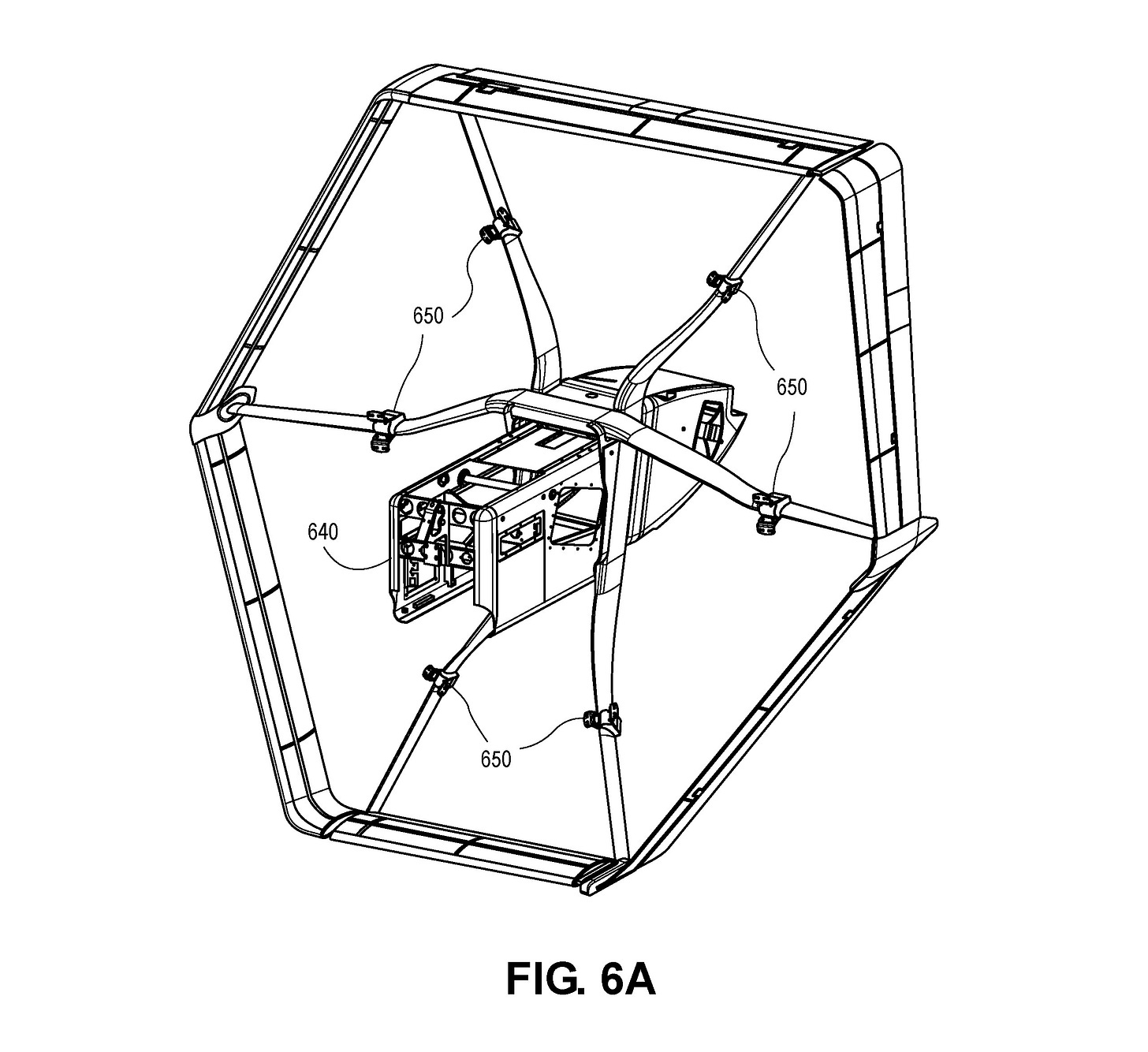 Amazon's interest in delivering your packages via skymail isn't new. In late 2013, then-CEO Jeff Bezos said in a "60 Minutes" interview that he hoped to launch Prime Air drone delivery for packages under five pounds within four to five years. But the company's drone ambitions faced a number of hurdles over the years, including safety concerns and FAA regulations.
Amazon started drone deliveries at the tail end of 2022 in the cities of Lockeford, California, and College Station, Texas. Prior to the launch, the company debuted a drone design in November that could fly longer in a wider range of weather conditions, with the goal of "enabling customers to choose drone delivery more often."
But despite the company's high hopes, Prime Air has yet to live out the tale of success that Bezos spun in 2013. Despite projections in January that the company would make 10,000 Prime Air deliveries by the end of 2023, as of April, the company had only completed 100 deliveries in the markets it launched in. It also cut a significant amount of the team working on drones as a part of its wider layoffs in late January.
The commercial drone delivery market is still nascent. The tech in this patent could be part of its drone comeback plan: Bulking up its fleet with low-cost, easily assembled drones that require less effort to maintain could breathe life into Amazon's Prime Air ambitions, growing steadily as the industry itself picks up speed.
Have any comments, tips or suggestions? Drop us a line! Email at admin@patentdrop.xyz or shoot us a DM on Twitter @patentdrop. If you want to get Patent Drop in your inbox, click here to subscribe.
Insights on the latest Big Tech patents.
Stay up to date with the development in Big Tech through the lens of patent filings. Join 50,000+ readers, for free.
Demand destruction is a fallacy. Demand hasn't evaporated, it has simply transformed.