Snap Can Show You the World
Tracking Big Tech through the lens of patent filings.
Snap wants to help you make sense of the world around you.
The company is seeking to patent a method for "insight presentation" in Snapchat's user interface using automated image processing. This tech works by using machine vision for identification and machine learning for categorization, to generate a "content collection" that identifies and organizes the features of a particular image or video.
For example, if you record a Snapchat video at a basketball game, this system can identify your location and activity as such, and generate a content collection around basketball games. Additionally, this system aggregates and presents tons of data related to the content, such as teams playing, scores or game times. If this content is posted publicly or by a business, the content collections are presented as a story for other users.
To maintain privacy, non-public content, such as a private or friends-only story, is "categorized anonymously as part of a general assessment of system usage," allowing any data related to the content to be put to use without revealing account-specific information.
"Machine vision can be used to identify content categories or content types (e.g. image subjects such as cats, brand associations, places, etc.) which are represented in images," Snap said in its filing. "The system then uses this information in a variety of ways while maintaining user privacy."
Essentially, it allows users to better understand their surroundings through photos taken on the Snapchat app, whether it be sporting event scores, a restaurant's ratings, or (in a potentially lucrative use case for Snap), the brand of an item in a photo.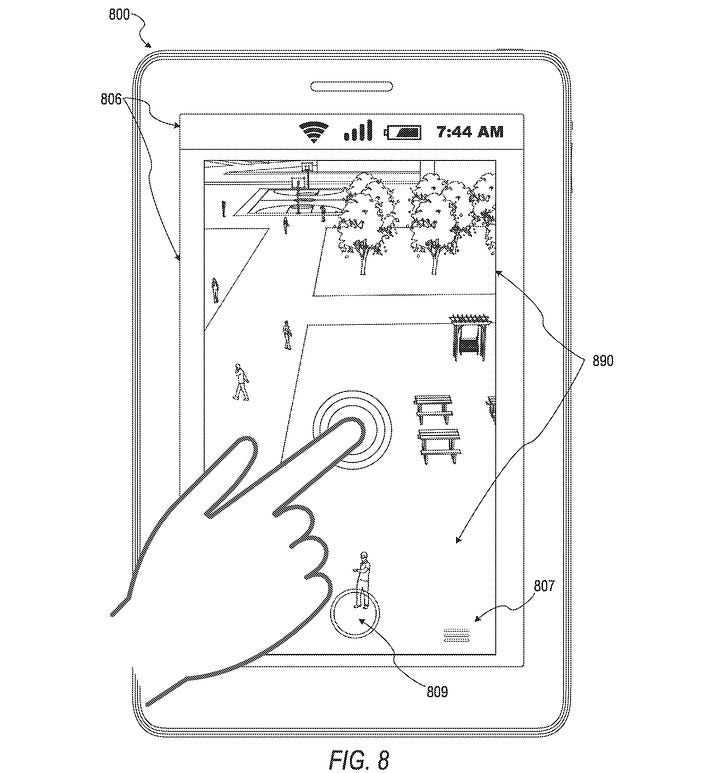 Snap's digital advertising scheme is much more personal than its competitors. Rather than only placing ads in people's feeds or in-between stories, Snap integrates their advertising into filters and AR experiences. The tech in this patent could represent a new avenue of advertising with a deeper level of user connection, Jake Maymar, VP of Innovation at The Glimpse Group, told me.
For example, if you take a photo of your friend at an event and they happen to be wearing a certain brand of sneakers, Snap may be able to identify that product and allow you to make online purchases in-app.
"Snap has actually been really smart in how they do their advertising. They make it fun, they make it interesting, they make it directly connected to you," said Maymar. "It feels like the next possible thing is users are going to be able to click on these items and buy them, and also know what's popular."
Snap could also leverage the data it's gathering to make these content collections to help brands better understand demographics they didn't know they had. For instance, if Snap identifies a brand that often pops up users that post in similar content categories, the company could partner with that brand for an advertising campaign targeting that group, said Maymar.
A new way to advertise to users – without them feeling like they're being advertised to – could be just what the company needs to breathe life into its stagnant advertising business. Snap missed Wall Street's revenue targets in the first quarter, reporting a top line of $989 million, a 6% year over year decline. CEO Evan Spiegel said the company is working on "significant improvements to our advertising platform to help drive increased return on investment for our advertising partners."
Given that this patent application was filed just in January, passive, embedded advertising may be part of its comeback plan.
Have any comments, tips or suggestions? Drop us a line! Email at admin@patentdrop.xyz or shoot us a DM on Twitter @patentdrop. If you want to get Patent Drop in your inbox, click here to subscribe.
Insights on the latest Big Tech patents.
Stay up to date with the development in Big Tech through the lens of patent filings. Join 50,000+ readers, for free.
Demand destruction is a fallacy. Demand hasn't evaporated, it has simply transformed.